OUR VALUES
Ethical Every Day
One of the secrets to making our dishes delicious is starting with wonderful ingredients - and then treating them with care so they really shine!
It's a belief we carry with us in all we do; treating our planet respectfully, our suppliers fairly, and our customers with the appreciation they deserve.
Our award-winning chefs, Phil and Liam, develop all our recipes, working closely with our registered dietitian. Together they create meals that are tasty and delicious.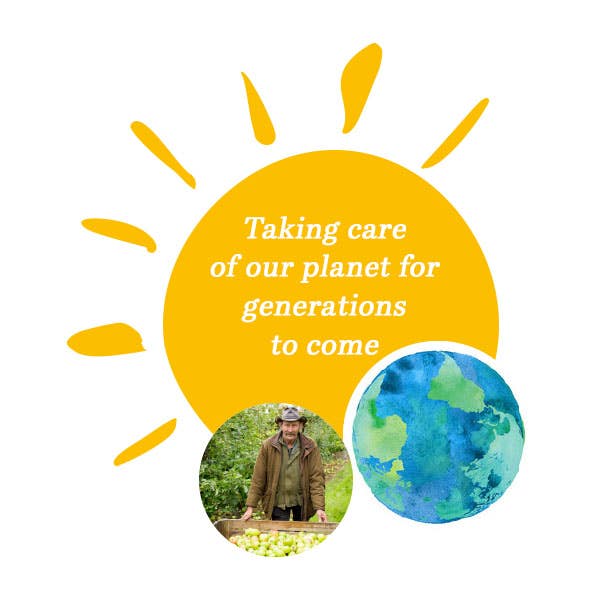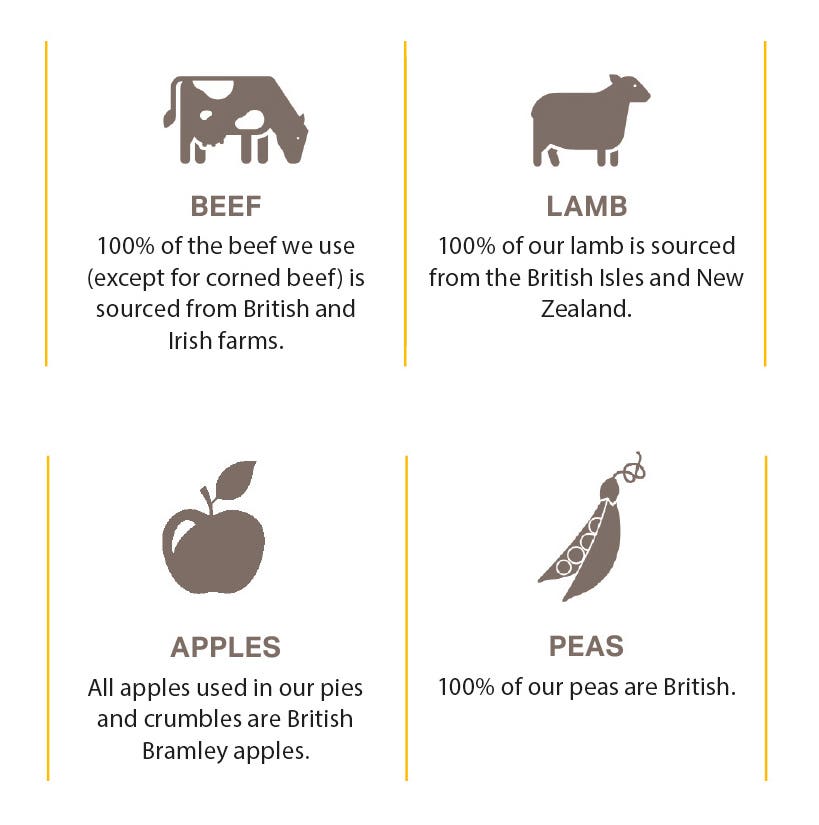 Right from the start
One of the biggest ways we can have a positive impact is to make sure we're sourcing all our ingredients in the right way.
We build relationships with suppliers and partners we trust and who share our values, which is why we're proud supporters of the British and Irish food and farming industries. Indeed, all the beef in our beef section (with the exception of corned beef) is sourced from British and Irish farmers.
Rest assured, we work with our suppliers to understand where our food has come from. Over 90% of our meals and desserts are made in Trowbridge, Wiltshire, where we've been based for over 30 years.
Closer to home
We think it's important to know the provenance of all the food we prepare.
And we're especially committed to sourcing food from the UK and are proud to use as many UK farmers and producers as our recipes and high standards will allow.
There are not many ingredients more British than the good old pea. We only use the highest standard British peas, supporting the communities they are grown in.
And as our menu continues to grow, we're always on the lookout for new UK suppliers who can provide more tasty ingredients for our delicious meals.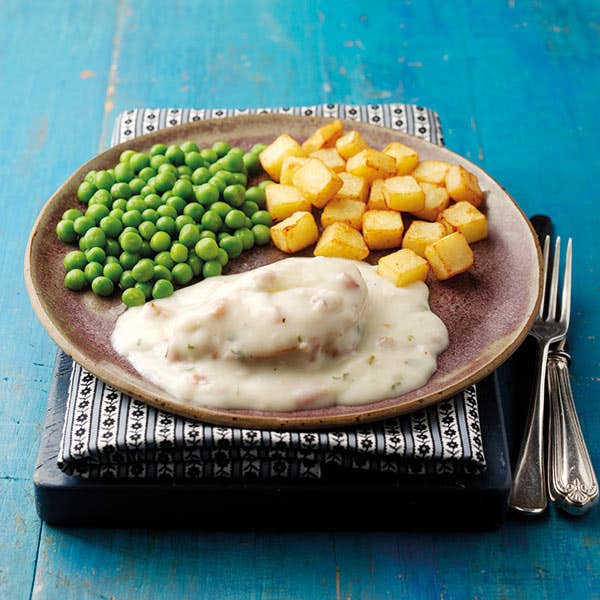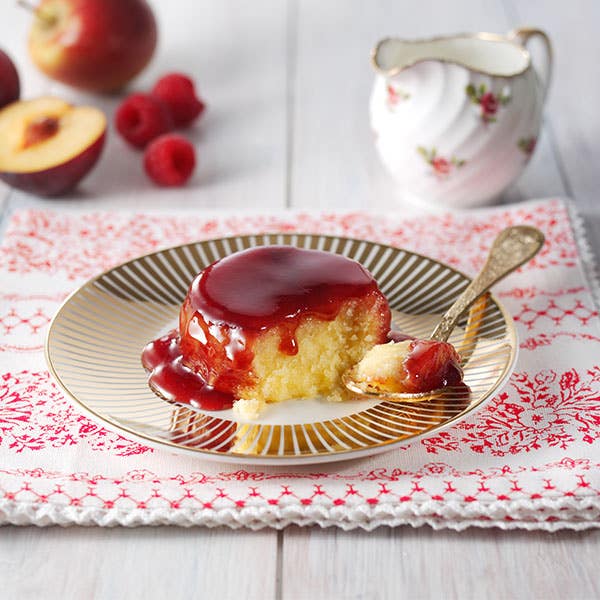 Respecting the world around us
Of course, we do buy from carefully selected suppliers abroad.
That is why we are members of the Ethical Trading Initiative. As much as we love keeping things local, we know sustainability and responsible sourcing is a worldwide issue. So we're also taking action on a global scale.
For example all our palm oil is certified sustainable by the Roundtable on Sustainable Palm Oil (RSPO) – making sure the impact it has on the environment is as small as possible.
We want all our customers to enjoy our food with peace of mind, confident that the food they're enjoying is prepared responsibly.
We're proud to have won our third Queen's Award
This award recognises our commitment to conducting business in a way that impacts positively on the environment, society and the economy.
From being a member of leading organisations who make a real difference to the world around us, such as the UK Plastics Pact and the Ethical Trade Initiative, as well as supporting local communities and charities, we put sustainability at the heart of everything we do.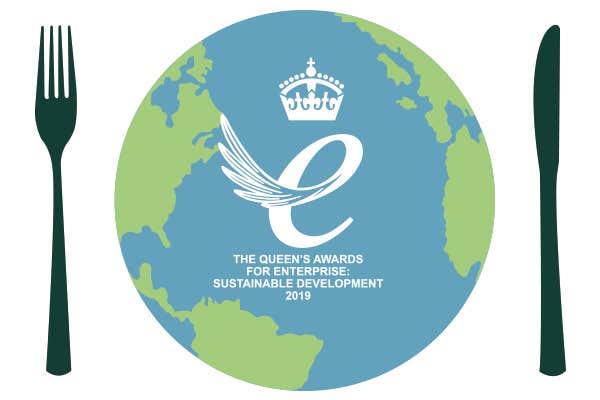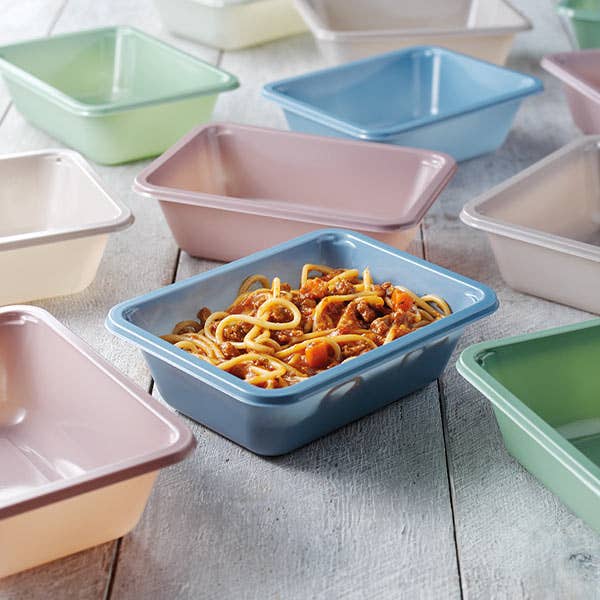 Right for the future
As a business with community at its heart, it's our duty to continually rethink the packaging we use. And no material is higher on our – or the world's – agenda than plastic.
We wanted a better solution to our packaging, which is why we introduced our trailblazing Collect and Recycle Scheme - the first of its kind, anywhere in the world! Once you've enjoyed your delicious meals, we're now collecting your empties and making sure 100% of them are recycled into brand new trays, right here in the UK.
Our colourful trays are made from recycled materials and are 100% recyclable, ensuring we're leading the way for a greener tomorrow. Find our more about our Collect and Recycle Scheme here.
In addition, we only use the packaging we absolutely need so unlike a lot of retailers we don't use cardboard sleeves on our meals and make sure to re-use our cardboard boxes.
We're also founding members of the UK Plastics Pact, an initiative which brings together 41 of the UK's leading brands to tackle the plastic challenge. It's purpose is to transform the plastic packaging system in the UK, keeping plastic in the economy and out of the ocean, by pledging to a series of ambitious targets to reach by 2025, including; 100% of plastic packaging to be reusable, recyclable or compostable.
We know there's a long way to go before the threat of single-use plastic is reduced – but we won't stop until we get there. Find out more about the UK Plastics Pact here.
Our Meals
Our talented team of chefs create all our meal recipes in Trowbridge, Wiltshire. We source our ingredients from a range of carefully approved suppliers in the UK, Europe and worldwide.
All our main meals and mini meals, snacks and desserts are made by us and frozen for freshness in Wiltshire. Some of our desserts and snacks are produced for us by suppliers in the UK and Europe.