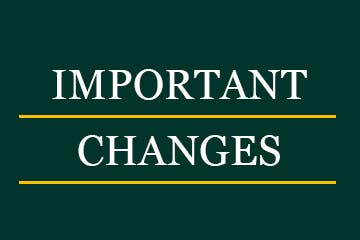 ALLERGEN CHANGES IN 3 OF OUR MEALS
ALLERGEN CHANGES IN 3 OF OUR MEALS
Added 1233 days ago. 18 May 2020
Due to a change of one of our suppliers, there are 3 meals within our range which now have the addition of the allergens soya and mustard in their recipes. Find out more information about the changes and the dishes that have been affected.
We have recently changed the supplier of our lentils, which we use to make 3 of our delicious vegetarian meals. We are getting in touch to make you aware of this ingredient change as it has affected the allergens which are included within the recipes of these 3 dishes.

The new lentils that we are now using to make these meals have the addition of soya and mustard, therefore if you have a food allergy or intolerance to soya or mustard, these meals will no longer be suitable for you to eat.

This ingredient change has not affected the flavour of these meals and they still have the same great taste and quality. However, to help you clearly distinguish the changes we have made, we have updated the brochure codes for each of the 3 dishes, so that the new versions of these meals can be clearly identified (see table below). You will continue to see the old brochure codes in our current Spring & Summer 2020 brochure, however the updated dishes are now available for sale through many of our local teams.

We advise that you always refer to the label on your chosen dish as this will show all the ingredients and indicate any allergens used in that specific recipe.
| New Brochure Code | Old Brochure Code | Product Description |
| --- | --- | --- |
| 4225 | 4212 | Vegetable & Lentil Sweet Potato Pie |
| 6697 | 690 | Butternut Squash & Butterbean Stew |
| 7124 | 114 | Minced Vegetable & Lentil Casserole |
Unfortunately the dish 7124 Minced Vegetable & Lentil Casserole is temporarily out of stock, however our chefs are working hard in the kitchen to make some more at this time of increased demand.
We also have many other delicious meals for you to try in our range if you are looking for an alternative. Discover our full range at the link below.