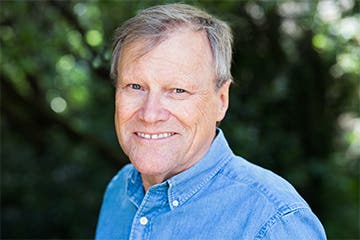 AN EXCLUSIVE INTERVIEW WITH DAVID NEILSON
AN EXCLUSIVE INTERVIEW WITH DAVID NEILSON
Added 1011 days ago. 3 March 2021
Or, you may know him better as Coronation Street's Roy Cropper! We caught up with David to talk acting, food, spring... and of course life on 'the Street'.
David has always been passionate about acting and began his stage career in rep theatre. But while it may be hard to imagine Coronation Street without him now, David's life very nearly took a different direction. In fact, at the time he got the part of Roy Cropper he was 46 and on the verge of giving up acting altogether...
"I was studying for my Open University Degree in Humanities and doing some writing for Stage and TV at the same time. Then a friend of mine who wrote for Coronation Street had me in mind for this particular part,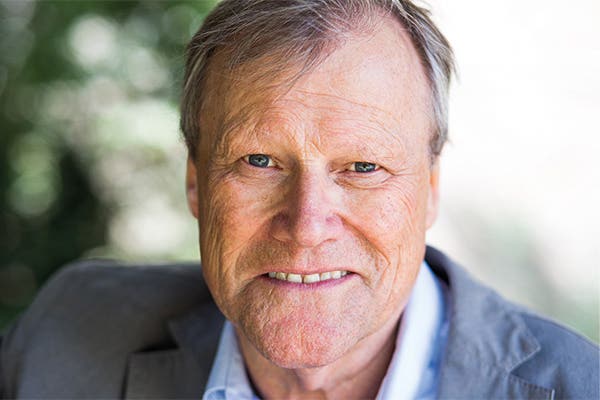 so it just happened out of the blue. As John Lennon said, "Life is what happens while you're busy making other plans!" As it was only supposed to be six episodes, I didn't think anything more than: "Great - I can pay a few bills!" And then there were a few more episodes, and a few more... and the rest is Coronation Street history!"
He can remember his first experience on set very clearly.
"We filmed those first six episodes on location across three Sundays out in Whalley Range, so I wasn't even in the studio. I was working with Anne Kirkbride (Deirdre), Johnny Briggs (Mike Barlow) and Tracy Brabin (Tricia). As I was driving out there with Anne, she said: "Oh, we're alright this afternoon - we're working with Colin, he's a great director. We'll be finished by 3pm!""
Corrie has recently hit its 60th anniversary – and it's been Roy's 25th year also!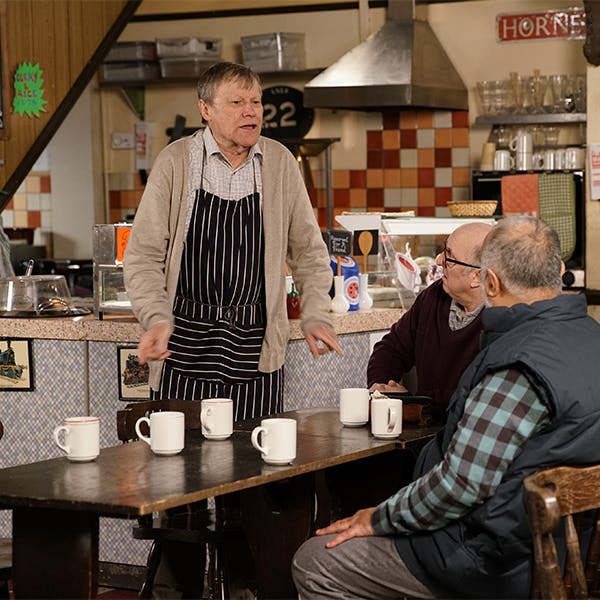 "It's extraordinary. It's not something you think about unless other people point it out, and when you see yourself on TV you think "Crikey! I've got old!" I never thought of myself as a fixture, but I am! I've never taken it for granted though. It's a really good bunch of people and I'm very fortunate. It's not like anything else - it's like living a parallel life!"

He's not that similar to Roy, though.

"He's a good character to play - he's very distinctive. We're not really alike - except that when I was first in the show, my wife was queuing up in the supermarket, and the woman on the checkout was saying to someone: "That Roy Cropper was in here the other day, and he's just as scruffy in real life as he is on the telly!" So in that respect, yes, I am like Roy! I think he is very honourable which is something that I would strive for, but I've got family and I'm a bit easier with people than he is. He finds it difficult being in company, which is really weird because he's quite a popular character."

He finds it hard to choose a favourite storyline...

"I like the whole thing – it's just like life, really. I enjoyed the Tracy Barlow storyline – it was a pretty unusual trajectory with twists and turns, a baby and blackmail and goodness knows what. Of course the final storyline with Hayley was quite something (she swallows poison to escape inoperable pancreatic cancer) but I wouldn't say that I enjoyed it."

There are lots of funny moments on set...

"We do have a laugh. I remember filming a crowd scene out in Manchester. In between takes you'd be powdered down by Make-up, and somebody else was being powdered down saying "What are you doing?" It
turned out to be an unsuspecting member of the public!"
He gets recognised by his fans a lot.
"Fans are lovely. When people thought Roy was threatening at the beginning, I'd get heckled a bit, but now it's very respectful. The first time I realised I had a public responsibility, I'd gone to visit my brother in hospital and a lady came straight towards me and said: "My husband just died". She was all on her own. We went outside and I talked to her and made sure she got home safely. Suddenly you're in a situation which you're not trained for. I was the only face she knew so she turned to me."
He's developed a passion for 'growing his own'.

"During lockdown we dug up half the garden - it was the first time we'd done it so we thought we might not get much but everything grew! It was the most amazing spring and summer. So what I liked eating came out of my garden for most of last year. I like fresh things and now I do eat fish but I avoid meat these days."

While David isn't a meat eater... Roy's customers certainly are!
"The most popular meal at Roy's Rolls is definitely a fry up! I remember when Bill Tarmey (Jack Duckworth) was in it, he loved it! Each time he did a wrong take they'd take the old plate away and bring out a fresh breakfast for him. And when they'd got the scene done, he'd stay and finish it!

He plans to spend plenty of time outdoors this spring.

"Our mission is to go to Northumberland and see the puffins! They're there from April to the beginning of May - thousands of puffins. I've got quite into bird watching – and I really want to see them as we didn't make it last year."

He's a big fan of this time of year.

"I love the spring. Everything comes to life and it's an optimistic time of year. We are not religious but my wife will make a Simnel cake. We have grandchildren so no doubt there will be an Easter Egg hunt!"

Like Roy, David definitely has a caring side and has become a supporter of the charity Chicken Shed.

"They're a great community theatre company in North London in need of funding - Michelle Collins introduced me to them. They're very creative, very performance based – and no one is excluded. Their shows are exhilarating and wonderful. My eldest brother had learning difficulties, so it's a cause very close to my heart."
David kindly donated his fee for this interview to the charity.