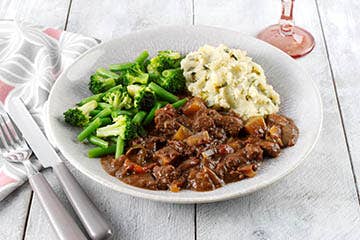 CELEBRATING BRITISH BEEF WEEK
CELEBRATING BRITISH BEEF WEEK
Added 525 days ago. 25 April 2022
We're celebrating Great British Beef Week by focusing on how we sustainably source our beef from our trusted and respected suppliers.
The superb, high quality and tasty British Beef we use at Wiltshire Farm Foods is what makes us proud to recognise our beef producers and join in to celebrate British Beef Week 2022 this Spring.
Its organisers, Ladies in beef (LiB), will this year focus on the environment and celebrate the great things British farmers do that make British farming so sustainable. Great British Beef Week (GBBW), supported by the NFU, will run from 23-30 April and continue to champion the quality of British beef and its farmers.
Incredibly, GBBW has helped raise over £90,000 for Royal Agricultural Benevolent Institution (RABI), who are one of the largest and oldest farming charities supporting farmers with financial support and care through issues such as flooding, which gripped the UK in 2019.
Benefits of Enjoying British Beef
A great source of protein, iron, B vitamins and zinc, British beef is proudly produced to some of the highest welfare standards in the world by UK farmers, and is therefore full of nutritional benefits to form part of a healthy balanced diet.
Not to mention that British beef farming is among the most sustainable practised worldwide; thanks to its environmental friendly grass-based grazing production in Britain, its green-house gas emission is roughly half that of the rest of the world [1].
According to a report by the NFU, the benefits of British beef include the following:
Net-zero greenhouse gas emission makes production environmentally friendly [2]

High-quality grass-fed livestock are reared in vibrant open environments

87% of UK beef is sustainably foliage fed (and 70% grass fed) [3]
Grazing livestock enhances the fertility of soil and crops [4]

High-quality beef can form part of a healthy balanced diet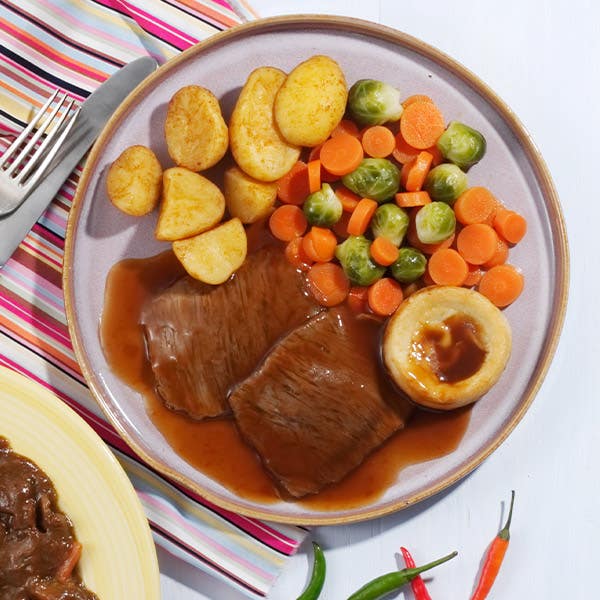 Our Story: Sustainably Sourced Beef
We are passionate about sustainability and always ensure we are acting in the most responsible way possible when producing our award winning frozen ready meals.
"All of our beef comes from Farm Assured suppliers in Britain and Ireland (excludes corned beef)"
One of the ways we hope to make a positive difference to our planet, is to source our ingredients in the right way. Committed to sourcing food from trusted partners, all of our beef comes from Farm Assured suppliers in Britain and Ireland (excludes corned beef); as well as being members of the Ethical Trade Initiative, we proudly support British food, farming and stand for fair rights for workers worldwide.
We build relationships with the farmers and suppliers we work alongside who also share our values, which makes us proud to be supporting high-quality beef suppliers for our recipes in the UK and Irish farming industries.
In the video, one of our beef suppliers from Tracey Cottage Farm near Bristol discusses life on the farm and how the farm has transcended over generations.
Enjoy Responsibly Sourced Beef Dishes
The proof may traditionally be 'in the pudding', but we can't recommend enough that you sample some of our beef dishes to taste just how good our quality of beef is.
Our range of delicious beef meals can be delivered directly to your door and even popped in your freezer by our friendly local drivers, who are always happy to help you with heating instructions or ordering your next meal.
Enjoy tender roast beef and Yorkshire pudding, or a succulent beef casserole, each full of flavour and guaranteed to make you smile, or your money back.
Here is just a selection of our tender beef meals available to order:
Enjoy our traditional steam roasted beef and Yorkshire pudding in rich gravy, served with all the trimmings - roast potatoes, sprouts, carrots.
Tasty, tender and a top choice by our Wiltshire Farm Foods customers, our Extra Tender Beef Casserole is full of slow cooked beef, juicy mushrooms and root vegetables. Finished off with a serving of delicious mashed potato, broccoli and cauliflower.

Order our chunks of tender beef topped with golden potatoes and a rich sauce, alongside mixed vegetables of carrots and green beans. Our hearty beef hotpot will simply keep you coming back for more.

A delicious dish of tender beef with onions, carrots and parsnips in a rich sauce, served alongside buttery mashed potato, cabbage and carrots. Sound delicious? Well, it is one of our Chef's Favourites!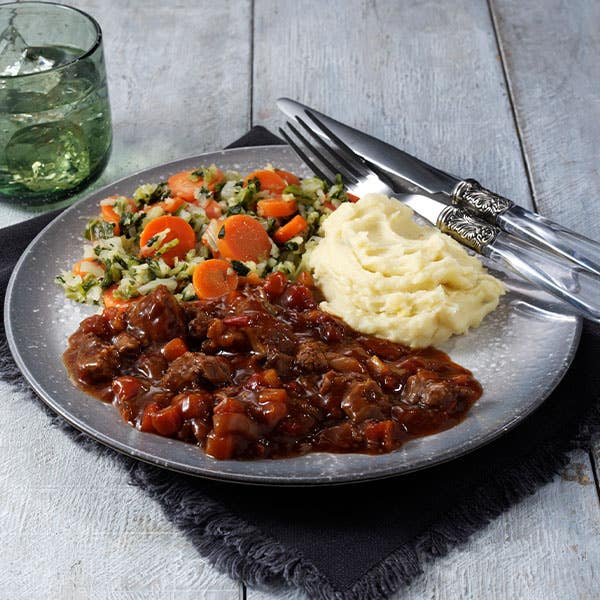 We have more high-quality beef choices on the menu too. Simply browse all our Beef Dishes to see which you would enjoy trying first or request a brochure to browse our full selection of over 330 tasty meals.
[1] NFU
[2] Land use: Policies for a net zero UK, Committee on Climate Change, January 2020
[3] Cattle Farm Practices Survey 2019, Defra
[4] Soil fertility - Livestock and the arable rotation, AHDB, 2018
Request a free brochure
Order a FREE copy of our latest brochure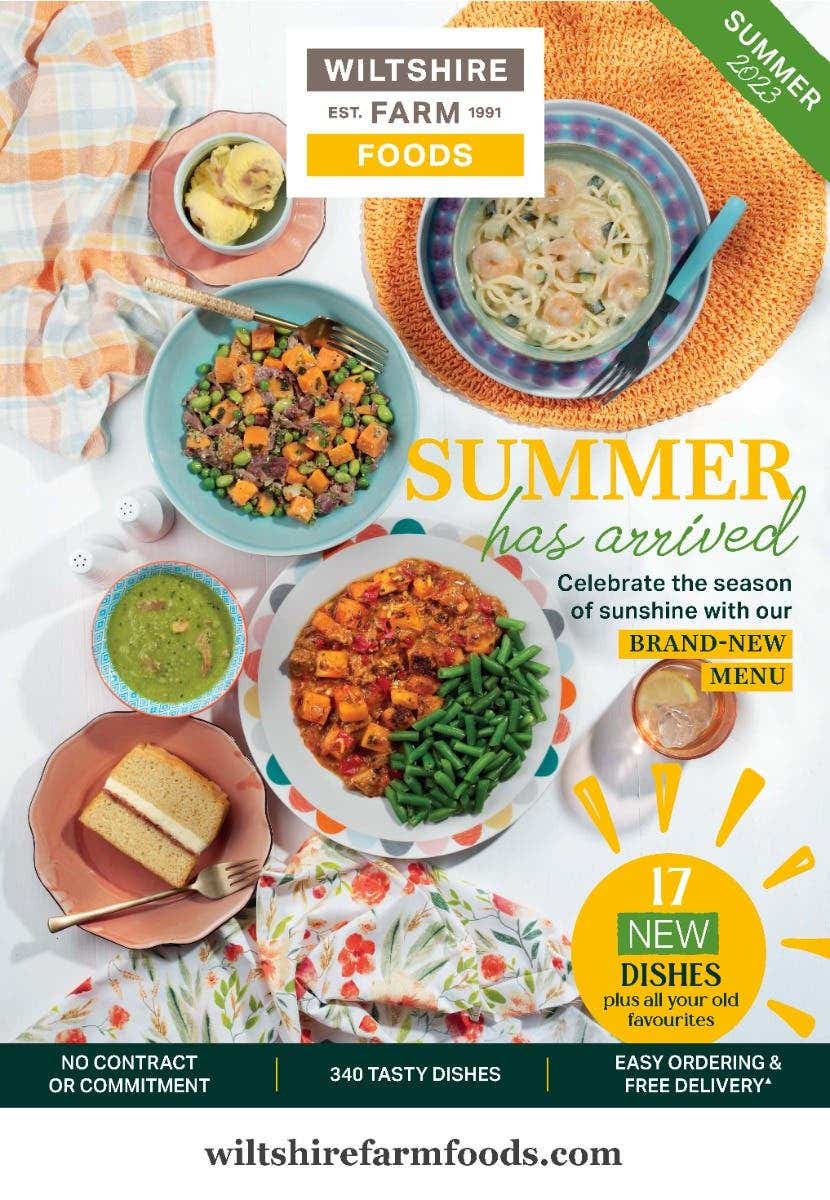 Shop by brochure code
Browse our range of over 330 tasty dishes with free delivery from our friendly local drivers. They're loved by 1000s of happy customers who've rated us excellent on Trustpilot.