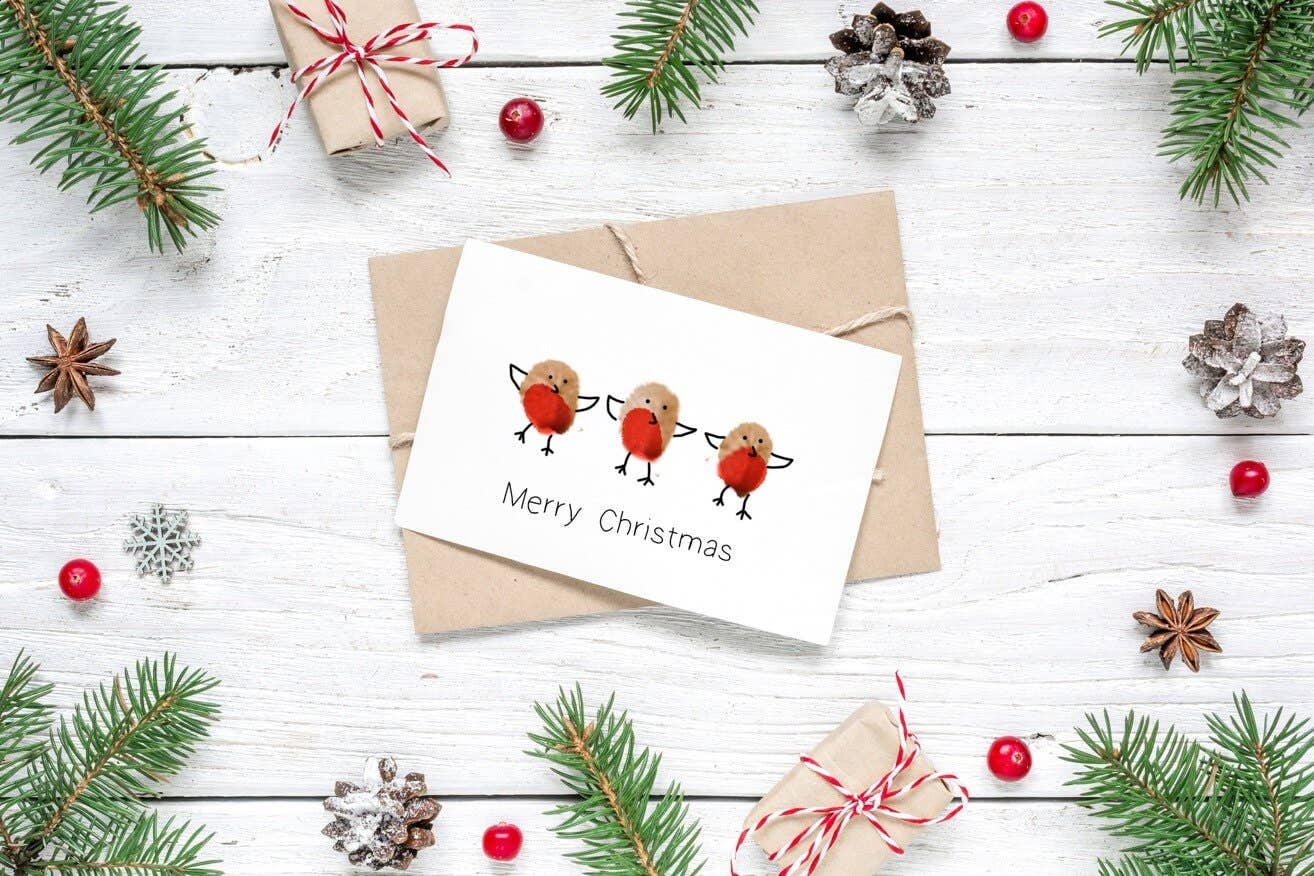 Easy Christmas crafts for you and your grandchildren
Easy Christmas crafts for you and your grandchildren
Added 1643 days ago. 4 December 2018
Christmas is a time for making memories and is an especially exciting time for young children.
So why not set aside an afternoon with your grandchildren this Christmas season, to bake, make or create something they'll remember forever?
In today's world, it can sometimes seem like a challenge to keep the grandkids away from all their gadgets, phones, iPads and even just the TV. But one great way to keep their attention is through creative activities such as crafts and home-baking, so they have something to show Mum and Dad when they're picked up later.

Try out some of these easy indoor activities and enjoy a couple of hours real quality time with your grandkids this Christmas - completely technology free!
1. Mason jar snow globes
A craft they'll keep for years to come, snow globes are simple to make using any old empty jar, recently washed up for the recycling.
Challenge their creativity by getting your grandkids to fill their snow globes with their favourite image of Christmas, whether that's a Christmas tree made from cuttings from the garden, a plastic woodland creature with glittery snow, or a snowman made out of cotton balls.
The possibilities are endless!
What you'll need:
A clear, clean mason jar with a firm lid

Decorations for the interior

Ribbon

Glue

Glitter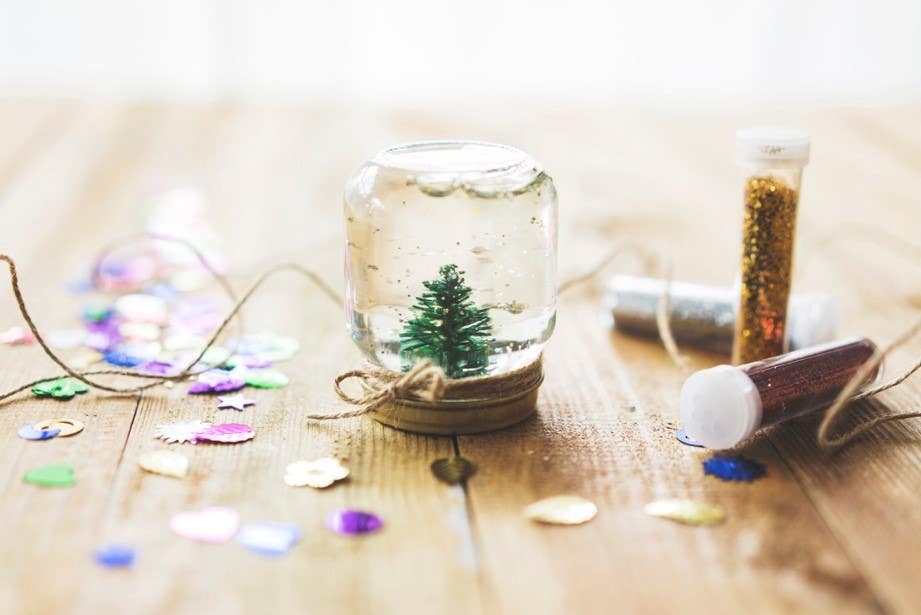 Method:
Take the lid off your mason jar. This is where you can create your winter scene. Make sure you glue all your decorations down properly!

With the inside of your mason jar clean and dry, sprinkle in a thick layer of glitter.

Once the glue on your decorations has dried, turn the lid upside-down and screw it into place. Make sure the lid is tight before turning the jar over.

Give your jar a finishing touch with a piece of ribbon around the base!
2. Fingerprint Christmas cards
The grandkids will love making these Christmas cards for all their friends at school. Easy and quick to batch make, all you need is card and paint! A thumbprint of brown and a splodge of red makes a robin, while the same in black and white will give you a family of adorable penguins.
Beware of messy fingers though, you might want to lay out some newspaper for this craft!
What you'll need:
Paper or card

Paint

A black pen

Newspaper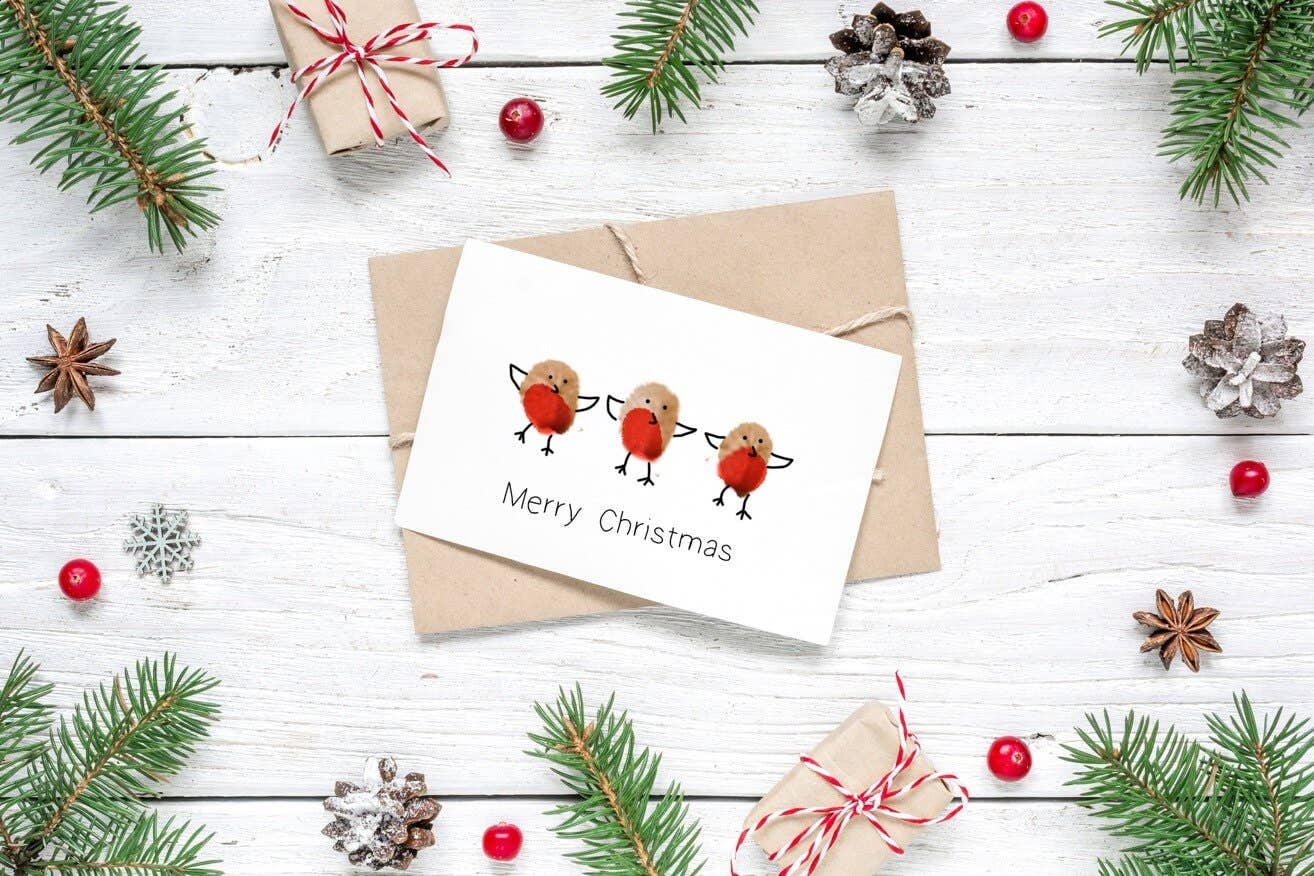 Method:
Lay out your newspaper and fold your card ready for decorating.

Pour a small amount of your chosen colours of paint on to a plate ready for fingerprints.

For a robin, stick your thumb in the brown paint and then press down on the card to make a print.

Using your index finger, do the same with the red paint, pressing your finger in the middle of the brown to make a red tummy.

With black pen, draw some legs, eyes and a beak on your robin.
3. Melted snowmen biscuits
If your grandkids love to bake, these melted snowmen biscuits will be sure to get them feeling Christmassy! You can use any biscuit recipe you like for the base, whether that's a basic butter cookie or something a little more festive – and the decorations couldn't be simpler.
What you'll need:
Ingredients for your chosen biscuit

Marshmallows

White icing sugar

Black or brown writing icing

Decorations for scarf and buttons
Method:
Bake your biscuits using circular cutters.

Make some white icing using icing sugar and water.

Drizzle your biscuits with plenty of white icing. Then, while it is still gooey, press a marshmallow onto each biscuit.

Now you're ready to decorate. Use your writing icing to give your melted snowmen arms and faces, then add whatever decorations you have for buttons and scarves!
4. Gingerbread wreath
For older children, you might want to tackle something a little more ambitious. Why not challenge yourselves to making a stunningly edible Christmas wreath? It might not last as long as a traditional wreath, but it'll certainly be fun to make – it might even become a tradition they'll continue for years to come!
What you'll need:
Ingredients for classic gingerbread biscuits

Christmas cutters

A large dinner plate

Royal icing sugar

Caster sugar

Edible decorations

A strong piece of ribbon for hanging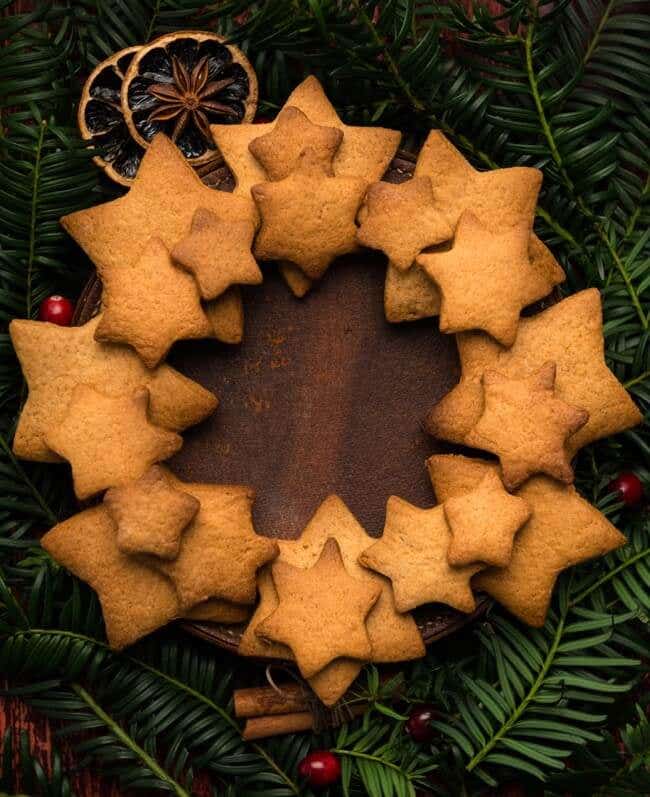 Method:
Roll your gingerbread dough out to about a 3mm thickness, then using a plate, create a large circular biscuit for the wreath base. Cut out the middle so that you have one large donut shaped biscuit ready for baking.

Using your Christmas cutters, cut about 20-25 shapes and cook all your biscuits according to the recipes.

Once your biscuits have baked and cooled, you can decorate them using the royal icing sugar and edible decorations. Leave the icing to dry completely before sticking to the wreath base.

To stick your biscuits to the wreath, heat caster sugar in a for 2 mins, or until a pale gold in colour. Brush this mixture on the back of the biscuits to stick them to the base.

Allow to set, then loop your ribbon through the wreath for hanging.
5. Lolly stick tree decorations
Homemade ornaments are the perfect craft for making memories. Every year that they're taken out of their boxes, your grandkids will remember the time you spent making them together.
From Santa and his elves, to Rudolf and The Snowman, with a little imagination there are so many different characters to make from this activity. Simply grab some craft sticks and glue them into shape. After that it's all about how you decorate!
What you need:
Craft sticks

Paint and decorations

String

Glue
Method:
Paint your craft stick and leave to dry.

Decorate your stick.

Make a loop of string and stick to the back of your decoration for hanging.
6. Paper snowflakes
They say every snowflake is unique, so why not find out how many different patterns and shapes you can make?
If you haven't had time to nip to the craft store, paper snowflakes are the perfect solution for an afternoon of arts and crafts.
Create yourselves the most beautiful indoor snowfall with nothing more than paper and scissors – and if you like, a little glitter! Hang them from the ceiling, or decorate the hallways.
What you'll need:
White paper

Scissors

Decorations (optional)

Sticky tac or string and sticky tape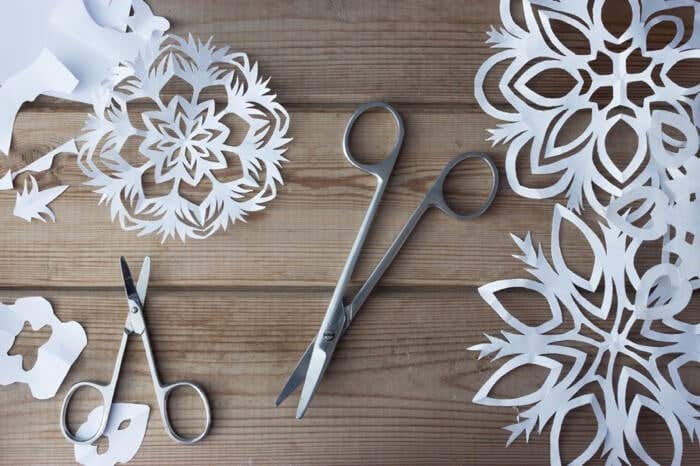 Method:
Fold a square piece of white paper in half diagonally, then fold again.

Get creative by cutting lots of small patterns and shapes into the edges of your paper. (Don't forget to help young children when handling scissors.)

Unfold to reveal your snowflake! Decorate your snowflake even more using glitter or other decorations, before sticking to the wall using string, tac or sticky tape.
7. Peg angels
Peg them onto the tree, use them as gift tags, or give them as gifts to teachers, parents or friends. These easy-to-make peg angels are the perfect spontaneous craft to keep your grandkids busy all afternoon.
You don't have to stop at angels either! Why not have a go at making snowmen, reindeer, or if they're feeling really creative, personalise them for each member of the family? They'll love bringing them out year after year!
What you'll need:
Wooden pegs

Paint (optional)

Card or paper

Old scraps of fabric or tissue paper

Decorations

Pens

Glue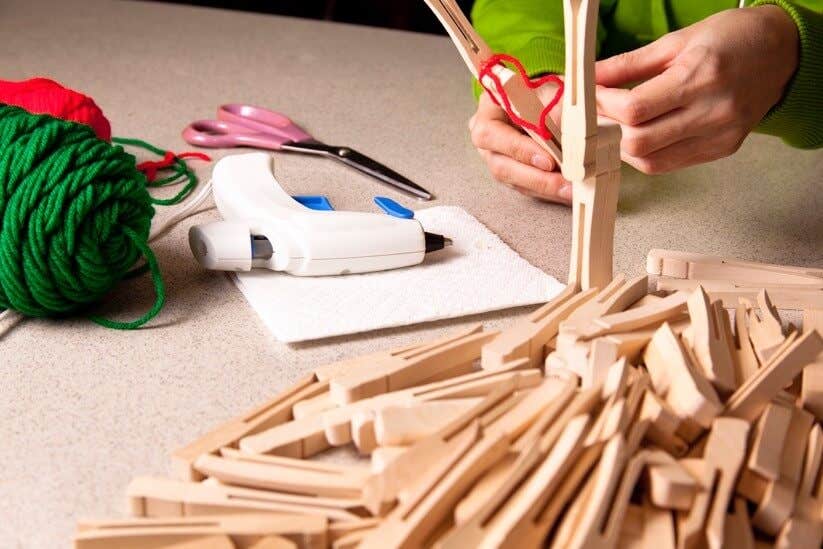 Method:
Paint your peg if you would like to – but leave to dry completely before decorating.

Make a face for your angel by cutting a circle of card. You can draw on hair or even use string or tinsel. Glue your angel's face onto the peg.

Now it's time to decorate your angel's dress! If you have fabric or tissue paper, wrap these around your peg and secure with glue. Otherwise, decorated paper works just as well!

Peg your angel to the tree – or anywhere else that needs a little extra decoration!