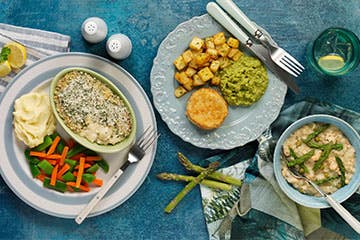 DIETS FROM AROUND THE WORLD
DIETS FROM AROUND THE WORLD
Added 689 days ago. 19 January 2022
Enjoy European cuisine without having to leave your home thanks to the different types of ready meals available at Wiltshire Farm Foods. Take a trip across the Mediterranean, sample flavours from France and even dip into Scandinavian seafood - all from the comfort of your own home.
Let's explore some of the different types of ready meals available here at Wiltshire Farm Foods. Our varied menu hosts dishes inspired from across Europe, meaning your tastebuds can take a trip across the Mediterranean, Scandinavia and the rest of Europe all from the comfort of your own home, with our ready to cook meals delivered to your door.
A Taste of the Mediterranean
Some say the Mediterranean diet is one of the healthiest on the planet, with Italians boasting the longest lifespan in the whole of Europe. Italy is famous for its pasta and pizza, but it doesn't end there.
Italians start the day with a coffee and a small biscuit for breakfast. They will then have a larger lunch consisting of a first and second course. The first course is usually a rich tomato or cheese based pasta dish, like our creamy Spaghetti Carbonara, typically followed by meat or fish with a side of vegetables. After a filling lunch, dinner is often a lighter option comprising of similar meal choices.
Enjoy la dolce vita with our Italian and Mediterranean menu. If you're looking for a lighter Italian option, you could choose our classic Tomato and Mozzarella Pasta, macaroni pasta mixed with chunky tomato sauce topped with grated mozzarella cheese.
The Nordic Diet
The less well-known Nordic diet is enjoyed in Scandinavian countries and contains a lot of fish and seafood dishes due to their vast coastlines. These are rich in Omega 3 and provide the basis for a healthy diet. A typical day of meals includes a breakfast of crispbread with meats and cheese, a light lunch with a coffee and pastry and a larger evening meal containing fish or meat dishes.
You can enjoy a taste of Scandinavia with our selection of Fish dishes, ready to cook and delivered to your door. Push the boat out with our Chef's Favourite Cod Fillet in Mornay Sauce, a fillet of cod cooked with a tasty cheese sauce, served with broccoli, cauliflower florets and boiled potatoes. Alternatively, our delicious Fish in Parsley Sauce is a firm favourite, a delicious piece of white fish in parsley sauce served with mashed potato, green beans and carrots.
French Cuisine
Food is taken very seriously in France, with their mealtimes lasting the longest in the world! The French diet is very meat based and their main meal of the day is at lunch. A lot of time is taken over this leisurely meal consisting of at least three courses and wine. Their evening meal is another long affair of three courses but with a lighter selection of dishes than at lunch. Despite being famous for delicious pastries that we, in Britian, have adopted as breakfast favourites, breakfast in France is often skipped to save themselves for their larger meals.
Indulge in some French opulence with our different types of ready meals. Try our succulent Beef & Dumpling Red Wine Stew, chunks of beef with courgette, peppers and red onion in a red wine gravy served with mashed potato, green beans, broccoli and a dumpling. Or perhaps you'd prefer a taste of our tender Lamb with Redcurrant Red Wine Sauce, pieces of slow cooked lamb and root vegetables in a red wine and redcurrant sauce served with mashed potato, carrots and green beans.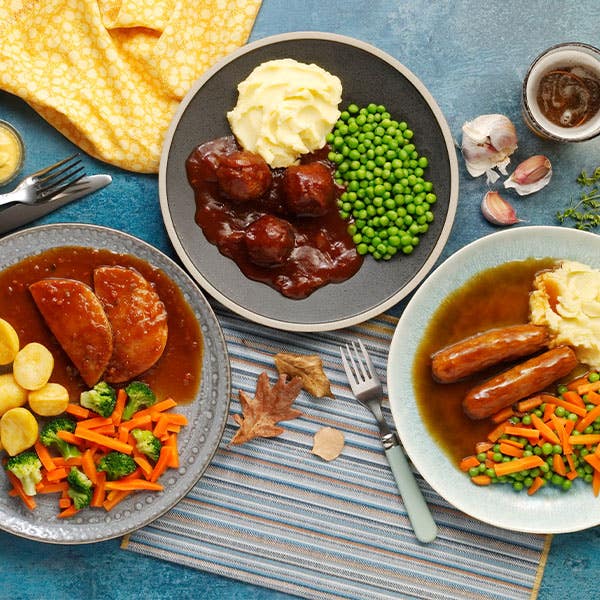 German Delicacies
Germany is known for its popular pork dishes, especially sausages, with often over 1,500 different types of sausages on their menus. Mealtimes include a lot of bread, cheese, and hearty pork dishes along with a coffee and cake break mid-afternoon.
To experience the taste of Germany, why not try our variety of Pork ready meals? Our flavoursome Sausages in Rich Onion Gravy consists of two sausages in onion gravy with Cheddar cheese mashed potato, served with red cabbage with apple and port and carrots. For something a little different, try our Creamy Pork & Mushroom Casserole, tender pieces of pork cooked in a creamy mushroom, smoked bacon and white wine sauce served with colcannon mashed potato and carrots tumbled in parsley.
Request a free brochure
Order a FREE copy of our latest brochure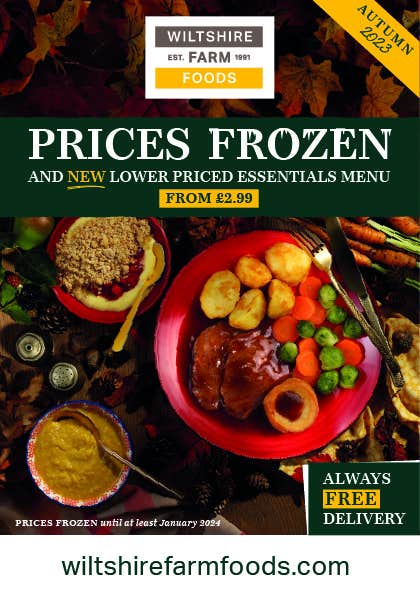 Shop by brochure code
If you prefer to shop from our brochure, you can use our quick shop form to order meals using the product codes shown in our brochure.