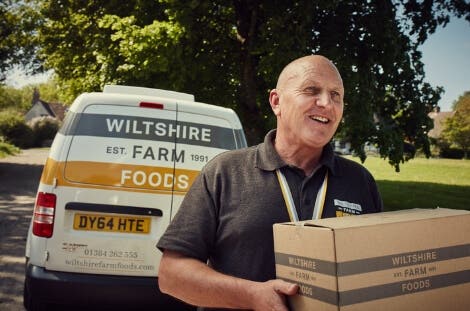 Extra Special
Extra Special
Added 1663 days ago. 14 November 2018
Wiltshire Farm Foods Driver Russ Kennealy's screen time adds to his daily deliveries!
Lights, wheels, action! For Russ Kennealy, ensuring his customers are left with a smile on their face is all in a day's work!
The Wiltshire Farm Foods Driver, who delivers meals across North Devon, previously worked as a Motorcycle Instructor and has appeared as an extra on several television and film productions, which stood him in good stead when he took part in a photo shoot for our brochure this year.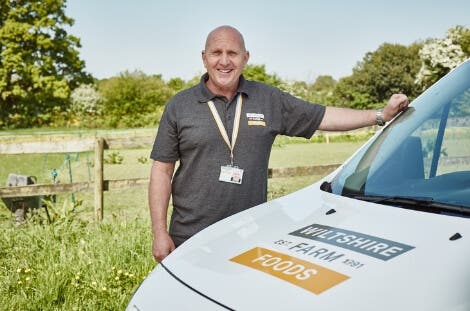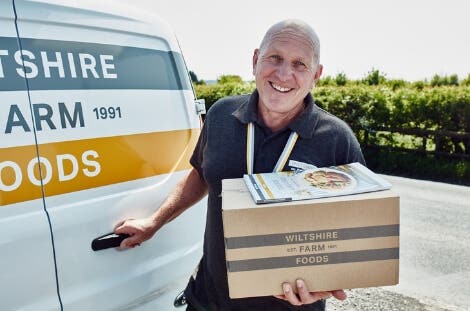 "It was good fun and brought back memories of my days as an extra," says Russ. "Years ago I had a horse stabled in Reading, and the yard's owner used to provide extras for BBC productions.

"I was asked to be involved in several shows with my horse, and readers may remember an episode of Are You Being Served? in which Grace Brothers takes its staff to a country house. In one scene, I rode into the courtyard on my stallion, surrounded by hounds as actress Mollie Sugden, who played Mrs Slocombe, opens the door and is confronted by the busy scene.
"I also appeared in Buffalo Girls and The Madness of King George, and although it was fun, there is a lot of hanging around in the cold when you are an extra."
Having gone from horseback screen star to two-wheeled Motorcycle Instructor, Russ is more than happy with the four wheels of his delivery van.

"I had seen Wiltshire Farm Foods around and I always though they looked pretty good, but I was lucky enough to get a job deliering meals six years ago," says Russ. "I'm now a Senior Driver, so I help out with loading up the vans and getting the Drivers out on their routes before I set off on my own deliveries across the gorgeous landscape of North devon and Somerset."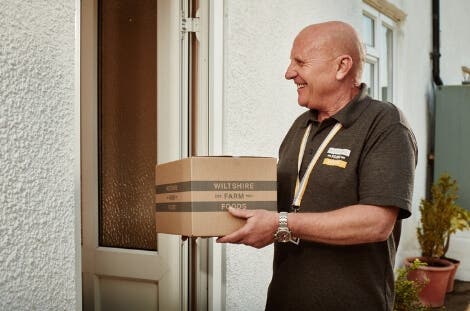 "I love it and I don't really think of it as a job. I lost my mum and dad about ten years ago and I treat all my customers as if they were my parents. I always have a chat and a bit of a laugh with them, and I go home with a nice glow inside - it really makes you feel god."