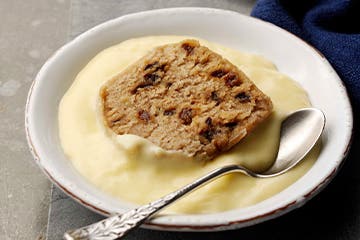 FAVOURITE DESSERTS FROM THE 1950'S
FAVOURITE DESSERTS FROM THE 1950'S
Added 301 days ago. 28 November 2022
Everyone had a favourite dessert as a child, we look back at some of the most popular desserts around in the 1950's. See if your favourite is on the list!
Can you remember your favourite childhood dessert? Whether eaten after a Sunday roast or as part of traditional school dinners, these favourite puddings can bring back some fond memories.
Dessert choices at the beginning of the 1950's were impacted by rationing, which didn't end until 1954. With resources such as flour and sugar being limited it was difficult to have a variety of sweet recipes and so home cooks had to be inventive. As rationing ended and more imports came into the UK, those cooking could branch out and start to try out different recipes.
Some of these dishes may now be less popular, but many are still often enjoyed today and are even featured in our own range!
1. Fruit Crumbles – these were a popular choice while rationing was still in place, using British home-grown fruit. Rhubarb and Apple Crumble were popular choices with both fruits being widely grown in gardens. This recipe allowed for small amounts of rationed goods to be used to make the crumble, with the bulk of the dish being made simply from stewed fruit.
2. Marmalade Roll – this dish gets a special mention in 'The Lion, The Witch and The Wardrobe' novel originally published in 1950. Usually made using a whole jar of marmalade, this is a sweet orangey delight!
3. Pineapple Upside Down Cake – this dish could look impressive. With a layer of pineapple rings and some cherries in the middle, it's an easy dessert to make. Simply arrange your pineapple rings and cherries on the bottom of a cake tin then pour on your cake mixture and pop in the oven. This dessert became more popular after rationing as the import of tropical fruits became more widespread.
4. Blancmange – this was a favourite for 1950's dinner parties. Made with milk, cornflour, sugar and a colouring of your choice, Blancmange was the showstopper of the decade. You would pour your heated mixture into a mould and allow it to cool and solidify, then turning it out for a table centrepiece.

5. Bread and Butter Pudding – this recipe has been around for centuries. Making the most of all food was essential in the 1950's and so this was a great option for using up any leftover stale bread. Simply add in a few staple ingredients and some raisins and you've got a great, tasty way of reducing food waste.

6. Spotted Dick – have you ever wondered how this pudding got its name? 'Dick' is a dialect term for pudding and the spots relate to the dried fruit that are mixed in. Made as far back as the 1850's, this suet pudding includes simple ingredients and is steamed in a basin.

7. Manchester Tart – you may remember this dessert being part of school dinners, and even made an appearance in Mrs Beeton's Book of Household Management back in 1861. Usually made with a pastry shell, a jam filled centre and topped with desiccated coconut - there are several variations to this flexible pudding.
8. Carrot Cake – this treat became popular during rationing since carrots could be used to sweeten a cake when sugar was unavailable, being even featured in a publication by the Ministry of Food. And it's safe to say it's still a popular choice today!
9. Rice Pudding – another dessert popular for school dinners, a creamy milky pudding served with a generous dollop of jam. Rice pudding is one of the oldest desserts in the world yet no one is quite sure where it came from; but it's certainly remained popular for a long time!
10. Jam Roly Poly – a British classic that was invented in 1845 and is still widely eaten today, often with a delicious helping of custard. We have a Reduced Sugar Jam Roly Poly & Custard in our range which is ideal for those trying to cut down on their sugar intake.

Why not take a look at our selection of Hot Desserts for more traditional options?