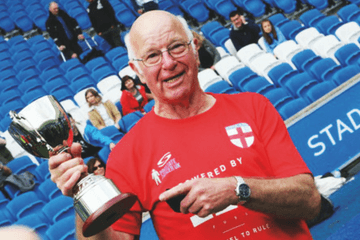 On The Ball
GET ON THE BALL WITH WALKING FOOTBALL
Added 1955 days ago. 24 July 2018
The thrilling action of the World Cup is getting us all excited about football! In this blog we'll be introducing the world of Walking Football which allows players to enjoy the game at a slower pace.
What Is Walking Football?
Even if it's not a home nation raising the trophy, the event has inspired many to get back on the pitch. Following on from the inspirational performance of the Women's Team in the Euros, more people than ever are interested in how they can get involved in playing. The great news is a game of walking football is a good way to have a go, so why not pull on your boots and join in the footie fun?

Played by both men and women of all ages and abilities, it's a great form of exercise for older people. The rules of walking football are that you must be over 50 to play and running and physical contact are not permitted during the five- or six-aside game. With 1,100 UK clubs, the sport is rising in popularity and is currently played in over 35 countries. There are even plans for a Walking Football World Cup in 2023!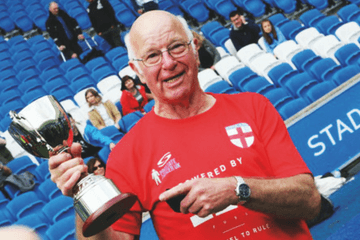 Football Family
Tommy Charlton, is the younger sibling of World Cup heroes Bobby and Jack Charlton, and made his debut wearing a number nine shirt for England as an ambassador for the Walking Football Association.
Having played walking football for many years, Tommy says the sport has many benefits. "Along with the physical health improvements, walking football is great for your mind," says Tommy. "Once you are on the field you don't worry about your aches and pains, you just concentrate on the game. Everyone who plays loses weight after a month and says how much fitter they feel."
"Older people often say they are lonely but I've made so many friends through walking football. After the game, we always have a cup of tea and a slice of cake."
Adults aged 65 and over are recommended to undertake at least 150 minutes of moderate exercise each week, a game of walking football is 40 minutes made up to two 20 minute halves. There are many benefits of exercise, with a regular exercise routine helping with flexibility, balance and prevention of heart disease.
The Walking Football Association provides a whole wealth of information on rules and how to get started with a local team near you. Helping out customers live their football
As part of our Bringing Sunshine competition, we recently took some of our customers to visit their favourite football stadiums to tick these memorable experiences from their bucket list.
Customer Mark Ackroyd and his son Jack, aged 18, haven't had the easiest time in recent years, with Mark having to deal with a range of health issues during the pandemic. As a life-long Red Devils fan, Mark expressed in his entry his desire to see Manchester United play live as well as how much he would love to provide a well-deserved treat to his son. We therefore set about making his dream come true by arranging tickets and travel to a game at Old Trafford – which resulted in a win against Arsenal!
"I couldn't believe it when Wiltshire Farm Foods contacted me to say I had won, and Jack was over the moon. He even broke down in tears when he found out we were going to see Man U play. It really meant the world to us, and it was lovely to spend to quality father son time together. Not only did we get to see The Red Devils play, but we actually got to see them win, beating Arsenal a whopping 3-1!"
We also received a couple of entries from customers James Gallagher, aged 60, and Derek Gregory, aged 96, who had always wanted to visit the Emirates Stadium. James wanted to pay tribute to his cousin and legendary sports photographer, Mike King, by visiting the dedicated plaque at the stadium in his memory. Derek also had strong affiliations with the club, having been a Gunners fan since 1932.
We were delighted to make this dream come true by organising travel and a tour of the Emirates Stadium. We also provided exclusive access to the photographer's room where James could see his cousin's plaque and take a moment to reflect on his impressive career.
We heard from James; "Visiting the stadium where he himself had taken many photos, was such a privilege - we really felt the sense of history. What a wonderful, unforgettable day." "I have been a fan since I was a wee lad," Derek says, "and well remember listening to the 1932 Cup Final on the radio. At 96, Wiltshire Farm Foods has completed my bucket list and made a lifelong dream come true."