GREAT BRITISH WINTER WARMERS
GREAT BRITISH WINTER WARMERS
Added 1295 days ago. 20 November 2019
As the nights draw in and the temperature drops, there's nothing better than tucking into a warming meal guaranteed to satisfy your taste buds on a cold winters evening.
We've put together our Great British Winter Warmers menu, full of British classics that are the perfect remedy for these long, winter nights.
WARMING SOUPS
Why not start with a warm nourishing soup that's full of flavour? Soups are the perfect winter lunch, as a light evening meal or even as a starter. Our favourite is a classic Pea and Ham – seasoned with a mix of vegetable and herbs. Or why not try something simpler, like a delicious Tomato soup with a hint of cream and a sprinkling of black pepper.
STEWS & CASSEROLES
And for the main event, traditional casseroles and humble stews are the go-to winter warmers if you're after seasonal vegetables and heart-warming flavours. Our Extra Tender Beef Casserole with delicate slow-cooked beef ticks all our winter warmer boxes. Or why not opt for a bowl of steaming Chicken and Vegetable Casserole, with fluffy mashed potato to make the colder days a bit more bearable.
TRADITIONAL ROASTS
If that's not for you, then how about a traditional roast to hit the spot on a cold winter's day? With so many meats to choose from, there's a roast out there for everyone. How about our chef's favourite, Roast Beef & Yorkshire Pudding, succulent Roast Chicken with Stuffing or tender Roast Lamb in Mint Gravy? All served with golden roast potatoes and a selection of vibrant vegetables.
SOMETHING FOR AFTERS
And what better way to warm your heart than tucking into a tasty Apple Pie and Custard? It's one of our favourite winter puddings, with a chunky apple filling, topped with shortcrust pastry and custard. Warm fruit crumbles are also great this time of year, choose from a tart Rhubarb or sweet Summer Fruits topped with a golden crumble. We could go on and on, we've got so many devilishly good desserts to choose from. After all, there's always room for a warm pudding when it's cold out.
We hope these deliciously warming meals help keep the colder weather firmly outside and with Wiltshire Farm Foods it couldn't be easier to enjoy these meals. Order online, or over the phone, and one of our friendly drivers will deliver your meals straight to your freezer. All you've got to do is pop them in the microwave or oven and enjoy.
Request a free brochure
Order a FREE copy of our latest brochure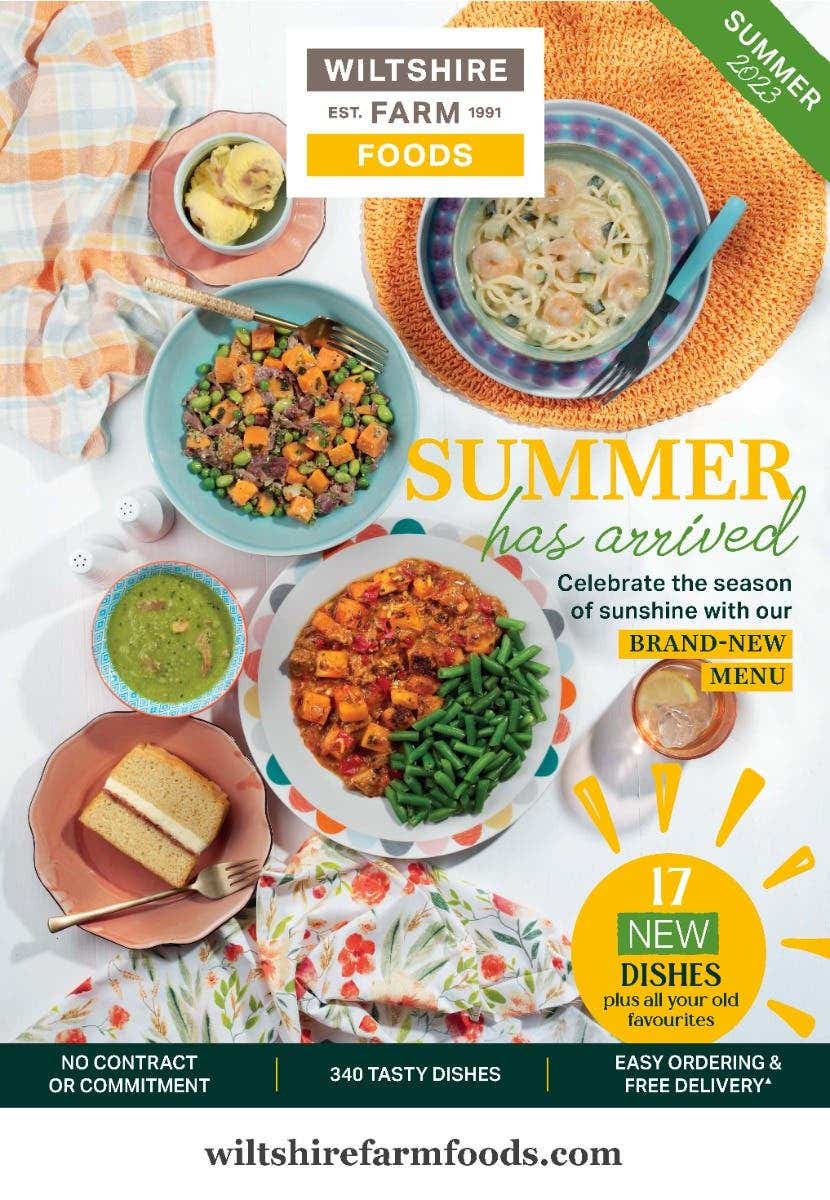 Shop by brochure code
If you prefer to shop from our brochure, you can use our quick shop form to order meals using the product codes shown in our brochure.