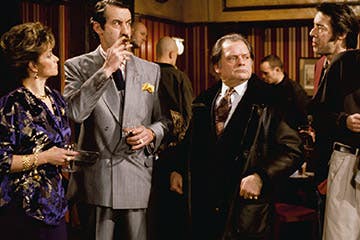 IN CONVERSATION WITH JOHN CHALLIS
IN CONVERSATION WITH JOHN CHALLIS
Added 1308 days ago. 1 May 2020
John Challis is the treasured British actor best known for his discerning facial expressions and comic portrayal of the much loved Boycie in the BBC sitcom Only Fools and Horses. We caught up with John to find out how he came to win the nation's hearts…
Boycie and beyond!
"It started at 6 years old, when my parents took me to the pantomime to see Peter Pan" said Challis. "I was fascinated by Captain Hook, you see. For months afterwards, I was pretending to be a pirate, driving everyone mad! I suppose I always had a thing for impersonating people."

Indeed, Challis' funny accents and talent for imitating his friends and school masters saw him take a regular lead in school plays – most often playing the girls!

"I was always interested in comedy. The sound of people laughing is something I find very seductive."

But the acting life wasn't to be – at least not straight away. On leaving school, Challis started a career as an estate agent to appease his parents. Needless to say, his heart was never in it and after only a year, Challis rebelled. Joining a travelling repertory theatre, he turned his attention to comedy.
"My mum was quite surprised, I think. I have a scary sort of face. She always thought I'd make my way in drama – but then my mother didn't have a sense of humour!"

Alas, by the late 70s, Challis still hadn't had his break. Deciding it might be time to settle into a 'proper' career, he went into business with a friend, opening a small garden centre.

"It was 1976, the year of the drought – the worst possible year to have a garden centre! It crumbled very quickly. I think we spent a bit too much time in the pub!"

Lucky for Challis, a change in fortune was just around the corner…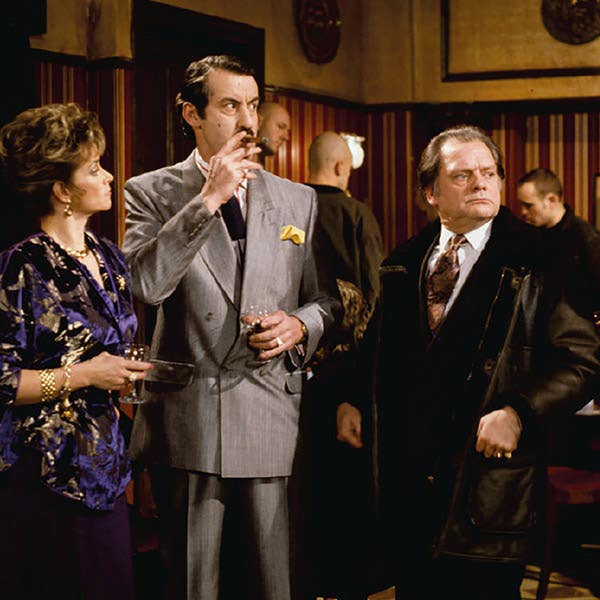 "There I was with this shop and a load of debt. Then I got a call offering me a part in Doctor Who – I jumped at it! Acting was what I enjoyed doing most. I was certainly no business man!"
A six-part series alongside Tom Baker opened doors for Challis, whose career quickly took him from London to Broadway and back again, eventually seeing him hand-picked by John Sullivan for the part we all know him for most – Boycie.
"Heroes and Villains was my favourite episode. The Batman and Robin sequence where Boycie gets Del Boy and Rodney to turn up to a wake in full costume. They come in going 'duna-nuna-nuna' and Boycie says, 'well what have you two come as then?'"
Fans of the show will be heartened to hear the cast were just as close off-screen as they appeared on. So much so, that many of them are still in touch today.
"It's one of those professions, you know. You're always bumping into each other on jobs. I've done filming with David Jason, and Marlene, played by Sue Holderness. We've done lots of other shows together as a couple. Then we have conventions every year to catch up, so yes, we're definitely in touch."
Still yet to part with the beloved Boycie, Challis' one-man-show, Only Fools and Boycie, will take him around the country next year, offering tales and anecdotes to his loyal fans.
"It's such a great privilege to meet the people who got the show where it is. After all, they're the ones who tu

rned the TV on!"
That said, Challis is still very much on the chase for parts he might have missed.
"There'll always be things I want to do more of. There's an American series called Special Victims Unit. I keep writing to see if I can be a dead body or something, but nothing's happened yet. Oh, and I would love to be Doctor Who!"
On a final note, we asked what Challis would like to have done if he wasn't an actor, and we almost wish it had happened!
"I'd have been a lead artist in a rock and roll band. I played the guitar in a band at school – Johnny and the Bandits. It was very exciting times, going out buying records as soon as Elvis Presley and Cliff Richard's hit the store. The school didn't like it though, they banned it all! We had to go down into the cellar with a gramophone. That pretty much sums up my rebellious schoolboy era!"
Click on the link below if you'd like to find out more about Challis' upcoming tour dates and locations.