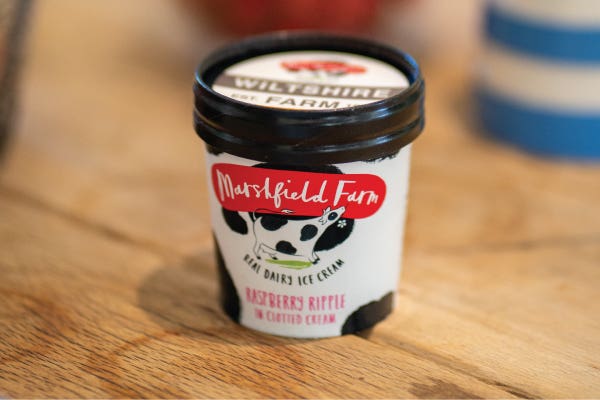 Meet our Producer - Marshfield Farm Ice Cream
MEET OUR PRODUCER - MARSHFIELD FARM ICE CREAM
Added 572 days ago. 16 May 2022
If you've ever tried any of our ice creams, you'll know just how creamy and delicious they are! They're made by Marshfield Farm, one of only a small number of carefully selected partners we work with. Theirs is a fascinating food story and one we can't wait to share with you…
We visited their organic farm to get a closer look at the action and create this video so that you too can hear the Marshfield Farm Ice Cream Story.
The Story behind the Ice Cream
Our ice creams are made for us by Marshfield Farm Ice Cream, located just 15 miles from our Kitchen on the edge of the Cotswolds.
The Hawking family have been making real dairy ice cream on their Cotswold farm for 30 years. Their story began when Will's parents came to live on the farm in 1971. Things looked very different back then. They used traditional methods to farm three hundred acres of land, with just two employees responsible for the mobile milking parlour which would be moved out into the fields to milk their small dairy herd of just 35 cows.
In 1988, Will returned from agriculture college with a burning passion to diversify the family's dairy business. As an ice cream lover, he took on the challenge of creating his very first batch of vanilla in the small farm kitchen.
32 years on and Will, his wife, and the rest of the Hawking family still run all aspects of the business.
The Farm Today
Fast forward three decades and Marshfield is a third-generation family farm and multi-award winning ice cream manufacturer.
The family business prides itself on creating products with fresh organic milk from their own dairy cows and all-natural ingredients sourced as locally as possible.
The key to their luxuriously creamy ice cream is their herd of 250 happy cows that roam and graze across 1,100 acres of rolling Cotswold hills. The cows are looked after to the very highest possible animal welfare standards, spending most of their days outside, and receiving regular visits from vets and food nutritionists!
During winter, they stay in the cow sheds equipped with rubber mattresses, rotating back scratchers and even an automatic self-cleaning slurry channel to ensure they are always comfortable, happy and spoiled!
As well as looking after the herd, sustainability is another big part of the Marshfield production: the vast majority of what they use is produced on-farm – whether it's food for the cows, or fertiliser for the fields – and they keep the running of the farm as green as possible with solar panels, a wood pellet boiler that produces less carbon, and a bore hole that serves all of their water requirements.
It's not only an organic farm, either: Marshfield Farm is also a wildlife haven, with native trees and hedges planted to encourage wildlife to flourish – including deer, hares, owls, and bats!
And as if ice cream for people wasn't enough, they even make a special version for dogs – inspired by their own family pooch, aptly named Scoop!
They've grown from servicing the local shop and cafe, to national wholesale delivery, supplying ice cream parlours, cafes, restaurants, and farm shops across the country! And, of course, Wiltshire Farm Foods. The ice cream making has moved from the family kitchen to a series of converted barns just metres from where the milking happens. Though today they make over thirty flavours, they still only ever use their own herd's milk.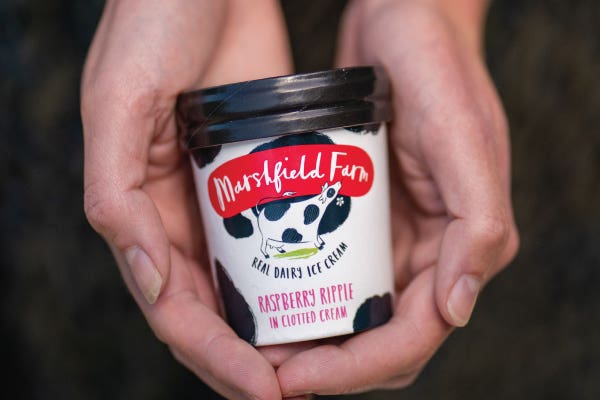 How It Is Made
Wiltshire Farm Foods and Marshfield Farm have been working together for a very long time. One of the most exciting parts of our partnership has always been the delicious range of incredible flavours we produce together.
From our summer Strawberries in Clotted Cream and Raspberry Ripple in Clotted Cream, we create fun and indulgent flavours for all the family.
Shared Values
When we were choosing an ice cream partner for Wiltshire Farm Foods, we just knew it had to be Marshfield Farm! It's important that we know the provenance of all the food we prepare. We're especially committed to sourcing food from the UK and are proud to use as many UK farmers and producers as our recipes and high standards will allow.
We build relationships with suppliers and partners we trust and who share our values, which is why we're proud supporters of the British and Irish food and farming industries. Marshfield Farm is only 15 miles from us at Wiltshire Farm Foods. They've been certified organic for over 20 years, meaning the highest possible standard of land management, sustainability and animal welfare. There are no oil-based sprays or fertilisers in use; they develop a healthy, fertile soil by adding compost and manure. Marshfield makes their ice cream without any artificial flavours or colourings and all ingredients are sourced locally where possible. One family, one farm, one herd – it doesn't get more traceable than that!
Delicious
Our delicious Clotted Cream Ice Cream is made with fresh milk and West Country clotted cream.
It's a Wiltshire Farm Foods customer favourite too - "Wow! A lovely, almost whipped texture to this ice cream that's not too sweet. Would love this in a bigger size, please?"
It's a great indulgent treat so why not keep a couple in your freezer?