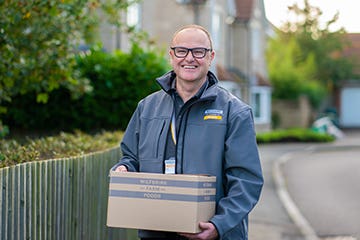 OUR MEAL DELIVERY SERVICE DURING 2020
OUR MEAL DELIVERY SERVICE DURING 2020
Added 866 days ago. 19 January 2021
As we continue to deliver our frozen ready meals and bring sunshine to your door, let's take some time to reflect on the year gone by.
Although the past year has been full of unexpected challenges, we got through the year together and we want to say a massive thank you to our wonderful customers for sticking with us throughout.
From redeploying a large number of our team to help our front line workers with the increased demand for our frozen ready meals, to delivering 200,000 puzzle books to provide our customers with entertainment during lockdown. It has definitely been a year that none of us were expecting!

The many pictures, poems and letters we received from you lifted our spirits and really kept us smiling whilst providing our good old-fashioned meal delivery service. We made some changes to our services so that our friendly, local drivers can keep delivering our delicious meals straight to your door, and we can all stay safe.
Here is what one of our team members, Jenny, had to say when reflecting back on her year:
"As part of my redeployment, I loved getting out and visiting our lovely customers, the chats I had really lifted my spirits and I hope theirs too. I enjoyed helping out in a variety of different settings such as delivering our food, loading the vans ready for the day, answering phone calls and feeling a real sense of camaraderie from the whole Wiltshire Farm Foods team."
- Jenny Waterfield, Marketing Manager at Wiltshire Farm Foods HQ
Take a look below at our timeline of 2020.

Our Meal Delivery Service
We look forward to continuing to bring sunshine to all of our wonderful customers' doors for years to come. We have a variety of frozen ready meals to try, so why not request a brochure or start shopping online with us today?