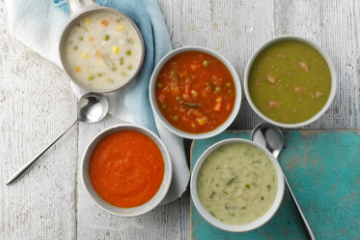 WARMING SOUPS & STEWS
WARMING SOUPS & STEWS
Added 1806 days ago. 28 December 2018
With the winter months approaching and the colder weather on its way, we can't think of a better way to spend these Winter nights than keeping cosy at home with a top-to-toe winter warming stew. We pick out our top 10 winter warmer from our ranges of stews and soups, If you're looking for vegetarian soups and stews we also have some great options:
WINTER WARMING STEWS AND CASSEROLES
Stews and Casseroles are the ultimate winter comfort food, why not warm up with one of our favourites:
1 Steak Mushroom Casserole - a classic favourite this casserole has tender chunks of steak mixed with mushrooms and vegetables and served with mashed potato, mash carrot and broccoli.
2 Beef in a Port Redcurrant & Bacon Sauce - this beef stew is bound to be a favourite described by one customer as ' this is delicious the potato is divine and the sprouts and sauce have so much flavour'. Chunks of beef mixed with silverskin onion and smoked bacon covered in a rich port and redcurrant sauce with the addition of a potato gratin and Brussels sprouts topped with a cheese sauce and a sage, onion and Regato cheese crumb.
3 Irish Stew - our traditional Irish Stew recipe contains tender lamb with potatoes, leeks, peal barley and carrots. It comes with a side of mashed root vegetables, mashed potato and savoy cabbage. If you have a smaller appetite there's even a mini meal option which allows you to enjoy a smaller portion of the same great taste.
4 Lamb, Vegetable & Butterbean Stew - another warming option has tender pieces of lamb shoulder and is combined with oak smoked bacon, butter beans and carrots. It's served with tasty skin on thyme potatoes and a portion of green beans.
5 Vegetable, Lentil & Chianti Hotpot - our great vegetarian option, a mix of vegetables: carrots, peas, haricot beans, leeks, lentils, celery and swede in a tasty, rich Chianti gravy topped off with browned sauté potatoes.
SPLENDID SOUPS
Amazingly we've been eating soup since 20,000 BC! This is an obvious choice in colder weather as a nice bowl of soup is bound to warm you up. So, if you fancy something a little lighter or you're looking for a lunchtime snack, we have 5 truly tempting flavours of soup to choose from:

6 Cream of Tomato Soup - the classic choice a creamy soup made with tangy tomatoes, did you know that 37% of people in the UK have said that tomato soup is their favourite soup option according to a YouGov poll.

7 Cream of Mushroom Soup - our creamy, smooth mushroom soup is made with chestnut mushrooms with leeks and onions added for extra flavour.

8 Leek & Potato Soup - the second favourite soup in the UK according to YouGov with 17% of the vote, our soup is a tasty blend of leek and potato with chives for added seasoning.

9 Chicken & Vegetable Soup - chicken soup is well known as a cure for when you're feeling under the weather, there's even a book called 'Chicken Soup for the Soul'! Our chicken soup comes with tender pieces of chicken and onions, green beans, carrots, peas and leeks. Ideal for when you're looking for a pick me up! Our customers agree too, one said 'This soup is very tasty and nourishing'.

10 Chunky Vegetable Soup - a great option for getting in one of your five a day our delicious vegetable soup is made with tomatoes, green beans, carrots, courgettes, butternut squash and savoy cabbage.

Whichever comforting meal you choose, we're sure it won't disappoint.