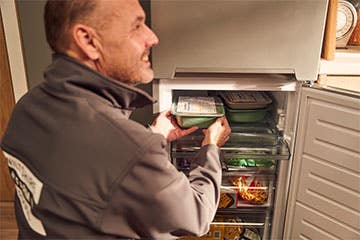 READY MEALS DELIVERED FOR THE ELDERLY IN THE UK
READY MEALS DELIVERED FOR THE ELDERLY IN THE UK
Added 222 days ago. 1 May 2023
Are you looking for the best ready meal service for you or your loved one?
We understand the importance of considering your options; making sure that the ones you care for are looked after and well fed, especially if they are elderly or have special dietary requirements. Choosing frozen ready meals for the elderly can be a great way to ensure that high quality, delicious meals are ready to eat when needed.
The enjoyment of a home-cooked meal doesn't need to stop when you can no longer solely cater for yourself. Choosing an old favourite or being adventurous with new flavours can be as easy as picking from a menu, thanks to the extensive range of recipes available at Wiltshire Farm Foods.
In fact, many ingredients go into the perfect ready-meal delivery service, which you may not have even considered. That's why we've rounded up the most important things to take into account when ordering a ready meal to be delivered to an elderly person and catering for their needs.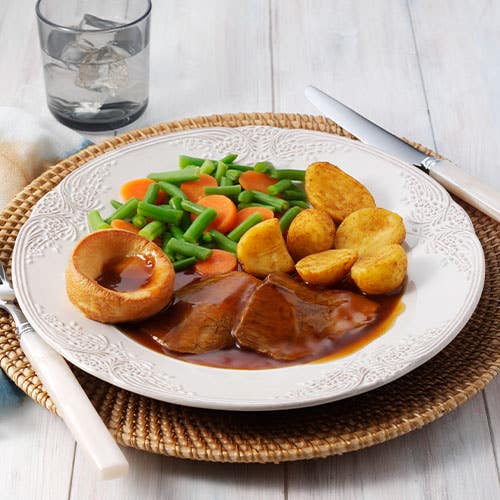 Catering For Elderly Meal Time Needs
Many elderly people struggle to cook for themselves at home. Whether it's that they find it a challenge to get to the shops, struggle to carry grocery bags or have health conditions that impair their vision or mobility – preparing meals for themselves can be a tricky scenario.
Ensuring that they eat a healthy nutritious meal can therefore be difficult and it is a challenge for many who care for an elderly relative or friend. That is where using a frozen ready meal service can help – reducing the time and strain on cooking for those eating, as well as those caring for an elderly person's well-being.
The Most Important Things to Look Out For When Ordering Ready Meals For The Elderly To Be Delivered
Tasty
Our chefs love creating popular cuisines for our customers, as well as rustling up new and seasonal dishes throughout the year. From traditional roast dinners and a classic fish and chips, to vegetarian or specific dietary dishes – we cater for all taste buds.
Simply browse the range and check against your preferred meal choice for real customer feedback when you're looking for a tasty dish.
Rest assured, we pride ourselves on our tasty frozen ready meals and you will never be limited on choice. What's more, you can even enjoy our Satisfaction Guarantee promise - if our food doesn't hit the spot, we'll replace it absolutely free.*
Trusted
It's a good idea to look around at reviews of frozen ready meal providers that cater for elderly needs. With so many review sites and message boards online, you'll normally find at least a handful of reviews and testimonials for each service. Seeing what other people are saying about them can help you make your decision.
Here at Wiltshire Farm Foods, we are proud of our Trust Pilot's 'Excellent' customer rating, for our food and customer service experience. Something we strive to deliver every single time. We are proud to have been delivering meals to our customers for over 30 years.
It's a good idea to look out for reviews and FAQs from other customers too, and if you still have any questions, we always welcome you to get in touch for a quick chat.
Easy
Ready meal delivery services are designed to take the stress out of food shopping, preparation and cooking, taking the pressure out of meal times, for the elderly in particular. Best of all, these frozen meals are delivered straight to your door by our friendly drivers.
Our chefs are always working on creating delicious recipes to simply prepare at home in the microwave or oven. We think the whole process should be easy from start to finish – that's why our ordering process is so easy; simply order what you want, when you want, with no contract or subscription. Whether you like to order online or over the phone - shopping with us is quick, easy and secure.
Read more about how to get started or watch this short video and you'll be ready to go.
Plus, if you're not sure where to start when ordering on behalf of somebody else, we have a really helpful option available for you too.
Our easy menu packs contain a variety of main meals and desserts to try, and is a great introduction for anyone to enjoy our ready meal range.
Expert
It's important that your chosen service is an expert at creating meals suitable for your needs. Wiltshire Farm Foods cater for a diverse customer base, because quite frankly, we love a menu as inclusive and diverse as our customer's needs.
We make it easy for everyone to feel safe in the knowledge that our expert chefs and clearly labelled packaging cater for a selection of dietary options, including small appetites, extra tender, low sugar and gluten free.
Just look out for the diet codes and icons when browsing our menu and feel confident we know our stuff when it comes to nutrition. Our clear labelling is used on our extensive specialist range of ready meals, including:
Whatever you or someone your care for is looking for in a nutritious ready meal, we label all of our range correctly and accordingly.
Friendly
As we mentioned, many ingredients go into the perfect ready meal for the elderly, not least a friendly delivery service with a smile.
Our friendly drivers deliver our frozen ready meals to your door and are always happy to help carry your food into your kitchen or pack it away for you. We understand that's it's often the value of human touch which matters most, especially for someone you care for, when you can't always be there. We provide all of our customers with a friendly and familiar face, a quick chat or a helping hand and it's often these little things that go a long way. This is what sets us apart from supermarket deliveries.
We're also committed to helping our customers stay safe, offering no contact deliveries on request.
Give Wiltshire Farm Foods a go
Look out for these five key factors when finding the best frozen ready meal delivery service for the elderly and you won't go far wrong. Proudly, these are values we hold dearly at Wiltshire farm Foods too.
We value our customer's personal choice, no matter their needs – that's why our chefs create over 300 tasty dishes, hand-delivered by our friendly local drivers, with the purpose of making their day easier and their mealtimes a pleasure.
Why not discover some of our best ready meals and check out our bestsellers range
Whether you are ordering for yourself or for somebody else, we are here to make things a little easier at mealtimes.
Simply order online or give us a call us on 0800 077 3100 to try our range of delicious frozen ready meals available.