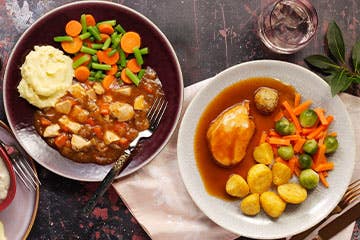 WHAT ARE THE BENEFITS OF READY MEALS FOR ONE?
WHAT ARE THE BENEFITS OF READY MEALS FOR ONE?
Added 675 days ago. 23 January 2022
Cooking for one is not always the easiest or most enjoyable task, which is where ready meals can help. Read all about the benefits of having ready meals for one in your freezer.
Even those of us who love to experiment with new recipes in the kitchen can find it difficult to muster the motivation to cook for one. For many of us, part of the enjoyment of cooking is preparing food to share with someone else and it can sometimes feel less inspiring to cook just for yourself. As well as the extra effort involved in cooking, you may find it difficult to get out to the shops to buy the ingredients needed to cook from scratch.
Ready meals for one can offer the perfect solution, providing a tasty, nutritionally balanced meal without the hassle of cooking. It can be much healthier to reach for a quick meal for one from the freezer, rather than make do with continual snacking or less balanced meals.
Our range of ready meals for one delivered straight to your door means you can enjoy the taste and goodness of a home cooked meal without having to leave the house or peel a potato.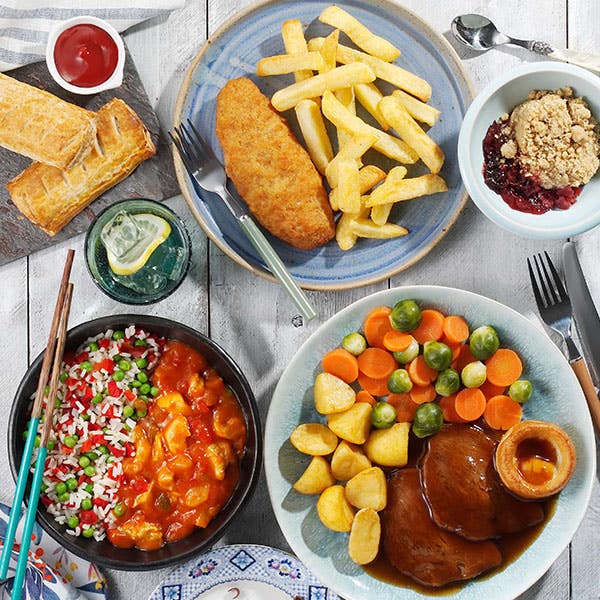 What are the top benefits of stocking up on ready meals for one?
The Variety
It's easy to get stuck in the rut of cooking the same dishes over and over, which can get quite boring. Ready meals provide a great opportunity to try something new without the hassle of searching for new recipes. Spice things up with a dish from our Indian and Chinese menu or indulge in one of our Chef's Favourites dishes without having to prepare a thing! Our Select range even offers you the chance to mix and match some of your favourite meals with our delicious side dishes, so you can make your ultimate meal.
The Convenience
When cooking for one, most of us don't want to spend hours in the kitchen slaving over a hot stove. Our frozen meals are quick and easy to cook - you don't even need to defrost them. Simply heat them up in the microwave or oven straight from the freezer for a delicious meal. Find out more on how to cook our ready meals for one.
Peace of Mind
Having a selection of tasty meals stocked up in your freezer gives you the reassurance of always having a convenient, nutritious meal available. Whether you haven't made it to the shops or just fancy a change, you'll always have an easy meal for one person ready to cook in minutes.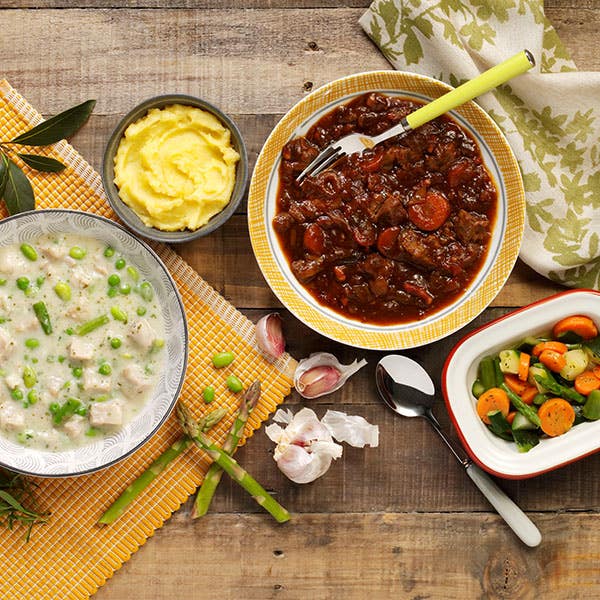 Reducing Waste
We are all becoming more aware of the need to be less wasteful and that includes food waste. Ready meals are a good way of cutting your food waste, eliminating unwanted leftovers and ingredients that are only used once before going out of date. Plus, the only packaging waste you'll be left with from our dishes is the plastic film lid. With our trailblazing Collect and Recycle Scheme, you can recycle all the trays for our meals by handing them back to your driver on your next delivery. All these trays will then be recycled into brand new trays for our meals, right here in the UK.
Tasty Recipes
Ready meals make it easier than ever to enjoy a wide selection of great tasting dishes. Our team of dedicated chefs have created a mouth-watering menu inspired by flavours from around the globe for you to enjoy, all from the comfort of your own home. Why not treat yourself to a taste of the Med with our delicious Italian & Mediterranean range?
Time Saving
Ordering our ready meals for one, delivered straight to your door, will free up more time for you to do the things you love. Instead of spending time shopping and cooking, you could spend the time enjoying a hobby or seeing friends and family, safe in the knowledge that you have a delicious meal in the freezer ready for you to enjoy later.
Nutritionally Balanced
We all know the value of a healthy diet, but cooking nutritionally balanced meals can be challenging, especially if you have special dietary requirements. Our meals are created by our team of talented chefs to ensure they contain the right ingredients for a tasty and nutritious dish. We also offer a complete range of specialist meals to make it easier for those with specific dietary requirements to enjoy.
More Than Just a Meal
Sometimes it's easy to feel a bit isolated, especially if getting out to the shops is difficult. At Wiltshire Farm Foods we're proud of our good old-fashioned service, meaning there is always a welcoming voice at the end of the phone and the familiar face of your local delivery driver at your door. Find out more on how to get started with our service.
With ready meals for one delivered straight to your door, you can enjoy the great taste of delicious, nutritious meals without leaving home. Explore our full menu online or request your FREE brochure today.
Request a free brochure
Order a FREE copy of our latest brochure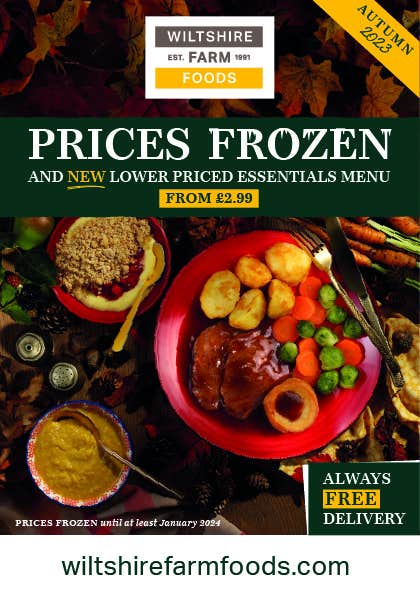 Shop by brochure code
If you prefer to shop from our brochure, you can use our quick shop form to order meals using the product codes shown in our brochure.