5 THINGS TO LOOK FOR IN A READY MEAL DELIVERY SERVICE
5 THINGS TO LOOK FOR IN A READY MEAL DELIVERY SERVICE
Added 367 days ago. 1 October 2022
When choosing the best ready meal delivery service for you, you should always consider five things: reliability, your contract, customer service, delicious meals and the range of options.
These five aspects are what separate the very best ready-meal delivery companies from the rest. And we believe it's our excellence in these areas that make Wiltshire Farm Foods a truly unique service. This is what sets us apart from other meal delivery services in the UK.
1. Meal Delivery Service with a Smile
At Wiltshire Farm Foods, we see ourselves as one big family, we pride ourselves on good old-fasioned service from our customer service team who take your calls right through to the friendly faces delivering your delicious ready meals.
Our local teams know their areas extremely well. In fact, they plan their own delivery routes to make them more efficient and help reduce their carbon footprint when delivering meals. Their knowledge of the communities they serve help us provide you with a truly personal and friendly service we are proud to provide.
With our local drivers, you'll almost always see the same friendly face when you receive your delivery. We feel this is really important, and gives great comfort to those ordering on behalf of a loved one.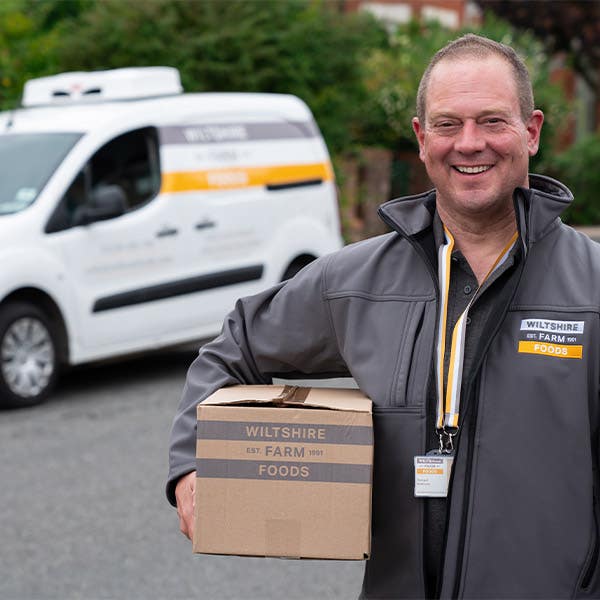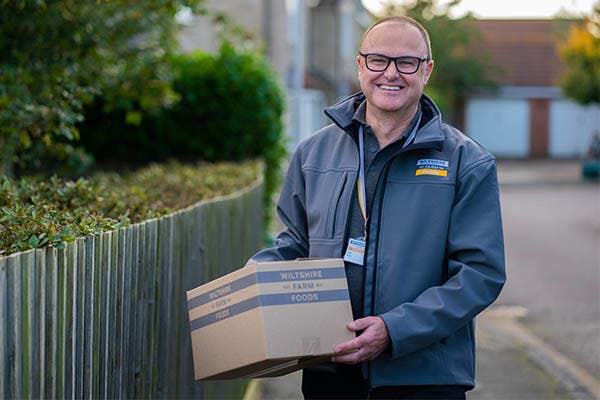 Their priority is you, so if you need help popping your frozen ready meals in the freezer they can help – service that goes above and beyond with a smile. They really do know the meaning of good old-fashioned service.

Fun Fact: Our delivery driver, Brian appeared on Good Morning Britain representing Wiltshire Farm Foods as one of the country's key workers, something he described as "a great privilege".
2. No contracts or commitment
With Wiltshire Farm Foods, there are no nasty surprises hidden within complicated contracts. In fact, there's no contract and no commitment at all.

You can order as often and as little as you like, delivery is free*, and there are no hidden fees or charges to worry about.

In fact, we are aware of the process and efforts our team put in to make our delicious ready meals. From sourcing quality ingredients to stringently reviewing each ready meal to ensure its up to standard, our chefs Phil and Jethro work closely with our in-house Dietitian, Emily to ensure our meals are not only packed with flavour but also nutritional benefits.

In addition, all our ingredients are sourced ethically and sustainably, we are proud members of the Ethical Trade Initiative and UK plastics pact, continuously looking at ways to make positive impacts on our environment.

With all this in mind, we happily offer a satisfaction guarantee.

So why wait? Ordering couldn't be easier. Simply order by phone or online. Alternatively, request a brochure and shop by brochure code. What's more, it's free delivery direct to your door. So if you are ordering for yourself or a loved one, you really do have comfort in knowing you are in capable hands.

*Minimum order may apply in some areas
3. Reliability
You might be thinking: 'Is there a reliable meal delivery service near me?' After all, there's nothing worse than ordering something and waiting all day for it to arrive, only to be disappointed.

We have a network of outlets throughout mainland UK, with friendly and trusted drivers local to you, so you'll see a familiar face regularly. You can select your preferred delivery date when placing your order, just visit our Home Delivery page and enter your postcode to see which days we're delivering in your area.

It's easy to order online or over the phone, even if the delivery is for a friend or relative. Plus, we accept cash and cheques on delivery, or debit/credit cards online and over the phone. We can deliver direct to you or to someone else's address and you'll also receive an email to confirm the food has arrived safely.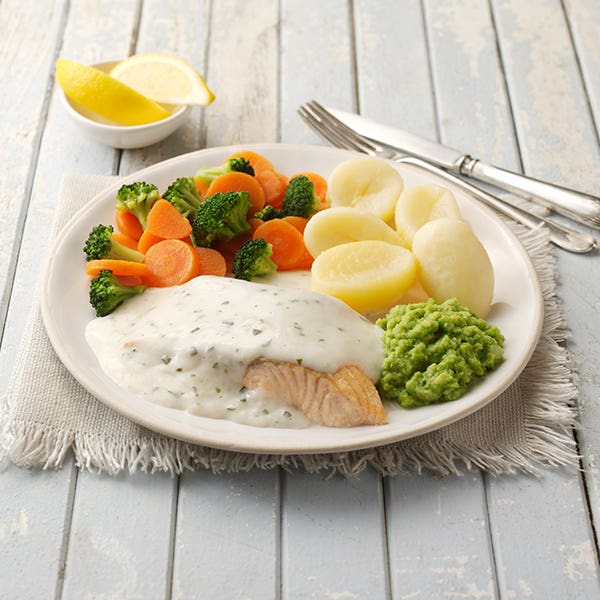 4. Delicious Meals
Our ready made meals are made with care in our Wiltshire Kitchens. From sourcing quality ingredients to stringently reviewing each ready meal to ensure its up to standard, our chefs Phil and Jethro work closely with our in-house Dietitian, Emily to ensure our meals are not only packed with flavour but also nutritional benefits.
We regularly review our ranges to improve our existing meals and to bring delicious new options to our customers.
5. Range Of Options
We have a huge range of over 300 meals to choose from so there's something for everyone.
Some days you can be feeling much hungrier than others so variable portion sizes can be helpful. We have two great ranges to suit different and varying appetites: Hearty Meals and Mini Meals.
Our Hearty Meals are larger than our standard portions, meaning they're guaranteed to satisfy you. Choose from delicious dishes like Bangers and Mash or Sweet and Sour Chicken.
For lighter meals, try our Mini Meals, which are smaller sized portions of classic dishes and soups. They're perfect as a light lunch or bite to eat in the evening.
If you're not sure what to go for, try one of our tasty Menu Packs, bursting with a selection of our favourite tasty meals to get you started.
Each pack contains a selection of main meals and desserts for you to try. It gives you a great introduction to our food and chooses dishes from across the ranges so you can try different meals.
Request a Brochure
Shop from over 300+ frozen ready meals, or request a brochure. Easy to order, easy to cook, packed with flavour and delivered directly to your door for free by our friendly drivers.
Request a free brochure
Order a FREE copy of our latest brochure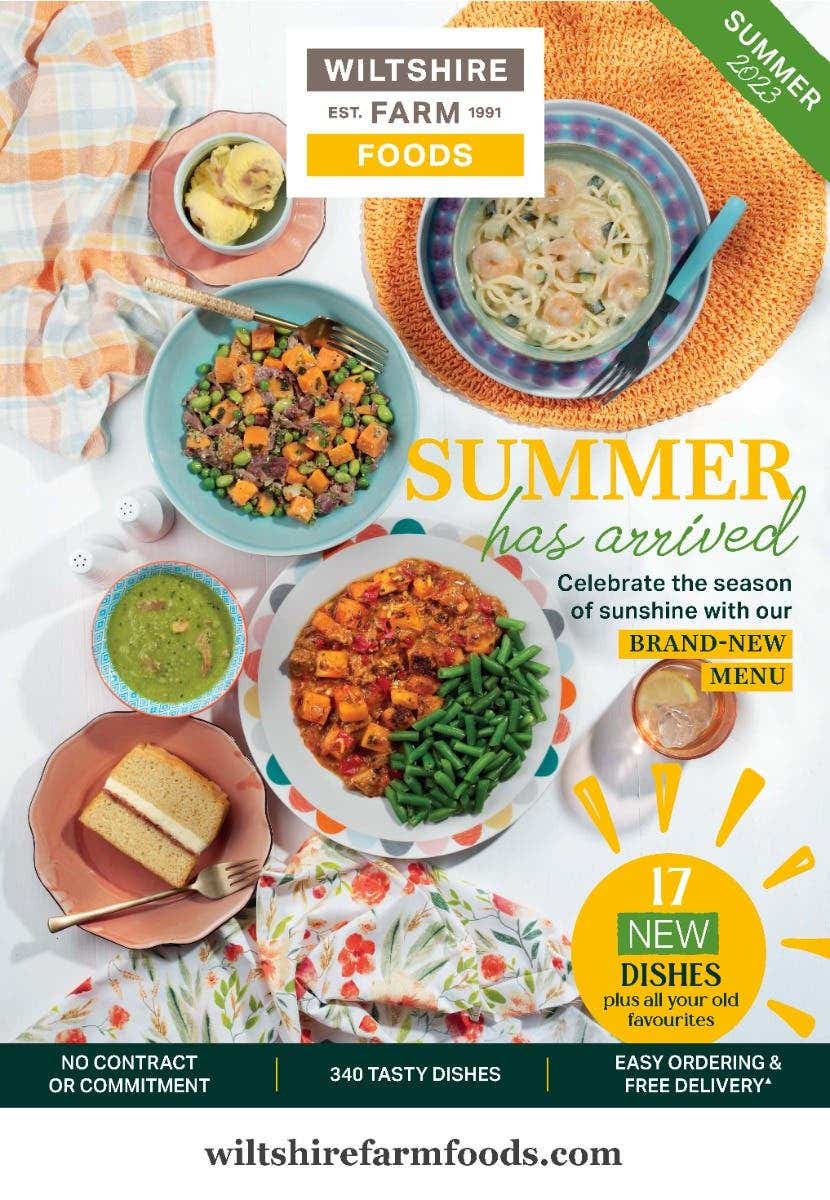 Shop by brochure code
Browse our range of over 300 tasty dishes with free delivery from our friendly local drivers. They're loved by 1000s of happy customers who've rated us excellent on Trustpilot.