FOODS TO AVOID WITH DYSPHAGIA
We'd like to put your mind at ease as to
what someone living with dysphagia
should or shouldn't be eating.
Here at Wiltshire Farm Foods, we understand that living with dysphagia can be difficult at times. Often, it can be confusing which foods you can eat and which foods to avoid with dysphagia, and altogether this can mealtimes and make dining an unpleasant experience. To help put your mind at ease, this article will clearly highlight which foods are best avoided if you have any swallowing difficulties.

If you have been diagnosed with dysphagia, then your Speech and Language Therapist (SLT) should have recommended a specific level of texture-modified diet that is suitable for you. If your diagnosis is more recent, useful information about dysphagia can be found on both the Wiltshire Farm Foods and NHS websites. The diet you have been recommended by your SLT is the safest for you to eat based on your current swallowing ability and should be followed at all times.
There are some types of food that can pose a particular risk to those with swallowing difficulties if they are not blended down properly. There are also other foods that are particularly difficult to blend well and therefore you should consult your Speech and Language Therapist regarding the following.*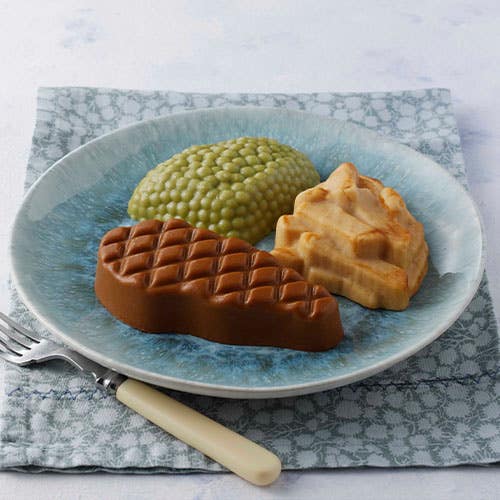 High risk foods to avoid with dysphagia:
Mixed consistency foods – these are any foods with more than one texture or consistency that can prove challenging for someone with dysphagia. E.g. cereals that do not blend well with milk, minced meat with a gravy that is thin, bread that has been dipped in soup.
Food that contains husks (husks are the dry outer covering of some fruits or seeds) - e.g. granary or other multi-grain breads and vegetables such as sweetcorn.
Foods with a fibrous or 'stringy' texture - e.g. celery, green beans, melted cheese or pineapple.
Fruit or vegetables with thick skins, seeds or pips - e.g. baked beans, peas, grapes and tomatoes.
Crunchy and crumbly items such as toasts, biscuits, crackers, crisps, pie crusts.
Hard foods – sweets, tough meat, nuts, seeds.
Bread is usually only recommended to be safe on a case-by-case basis as per guidance from your Speech and Language Therapist.
How can Wiltshire Farm Foods help?
At Wiltshire Farm Foods, we are proud to be able to help take the stress out of preparing texture modified meals at home. Our award-winning Softer Foods range has been expertly designed by our in house Dietitian and dedicated team of chefs to take the hassle out of home blending.

Every meal uses the finest ingredients, stringently produced to be both delicious and safe for those with swallowing difficulties throughout all the texture categories. Although our meals look and taste great, we also emphasise good nutrition – for example, our Purée Petite range which contains 500 calories and at least 16g of protein in a 300g or less serving size.

All our meals are delivered directly to your freezer by one of our friendly local drivers, meaning that our great food is there when you need it, and on ice when you don't.
*Wiltshire Farm Foods are providing general information regarding the foods that can be hazardous to those with dysphagia and are not recommending any direct healthcare practice. The information in this article should not take priority over the advice of any registered Healthcare Professional, and their advice should always be followed regarding any health issues or procedures.