The Competition
We all know someone who is a ray of sunshine in our lives!
Tell us who that person is for you, and why they make your life so much brighter in 200 words or less, for your chance to win them this fabulous hamper. And there's a prize for you too - £100 to spend on all your favourite Wiltshire Farm Foods meals!
How to Enter
Send your entry to: Spring Magazine, Wiltshire Farm Foods, Canal Road, Trowbridge, Wiltshire, BA14 8RJ.
Or email it to: info@wiltshirefarmfoods.com
Include: Nominated person's name and reason why. Your full name, address, phone number and local branch.
Entries must be received by 1st April 2021.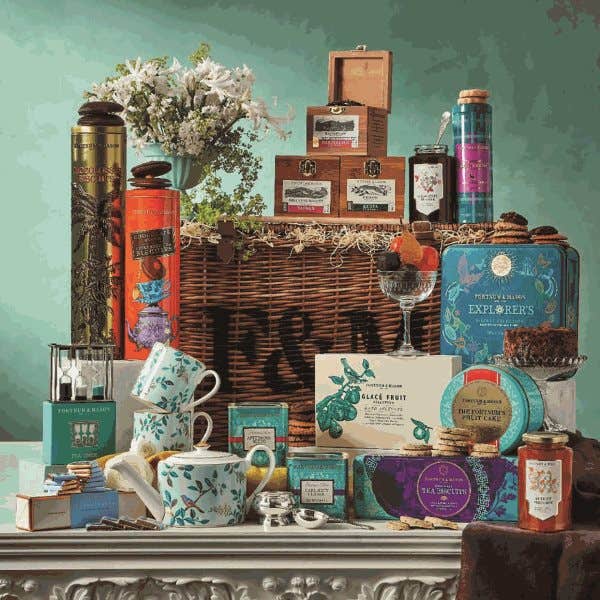 Read below for the full terms and conditions.
1 THE PROMOTER
The promoter is Apetito Limited (company no. 00233851) of Canal Road, Trowbridge, Wiltshire, BA14 8RJ (the "Promoter" or "us", "we", "our").
2 THE COMPETITION
2.1 Wiltshire Farm Foods Ray of Sunshine Competition
Entrants are invited to nominate someone who brings them sunshine. Entrants also have the opportunity to include a story or description as to why the nominee brings sunshine to their life (this will be taken into account by the judges).
The selected winning entry will get £100 worth of Wiltshire Farm Foods vouchers to spend. The winning individual nominated will receive a £500 Fortnum & Mason Afternoon Tea Hamper.

3 HOW TO ENTER
3.1 No purchase necessary. By submitting a competition entry, you are agreeing to be bound by these terms and conditions.
3.2 The competition will run from 12:00am GMT on 22nd February 2021 (the "Opening Date") to 11:59pm GMT on 01st April 2021 (the "Closing Date") inclusive. All competition entries must be received by us on or before the Closing Date.
All competition entries received after the Closing Date are automatically disqualified.
3.3 To enter the competition please send your nomination either:
(a) by email to info@wiltshirefarmfoods.com with the subject line "Ray of Sunshine Competition"; or
(b) by first or second class post to Spring Magazine & Puzzle Book, Wiltshire Farm Foods, Canal Road, Trowbridge, Wiltshire BA14 8RJ;
before the Closing Date.
3.4 Entries must be received by us before the Closing Date, regardless of the method of delivery. If submitting an entry by post entrants are encouraged to send entries with plenty of time to allow for delivery. We do not accept:
(a) responsibility for competition entries that are lost, mislaid, damaged or delayed in transit, regardless of cause, including, for example, as a result of any postal failure, equipment failure, technical malfunction, systems, satellite, network, server, computer hardware or software failure of any kind (and entries received by the Promoter after the Closing Date as a result of such an error will be disqualified); or
(b) proof of posting or transmission as proof of receipt of entry to the competition.
3.5 Regretfully, we cannot return any competition entries (or anything else sent to us as part of this competiti
4 SUBMISSION FORMAT
4.1 There is no limit on the number of submissions an entrant may make, provided that the nominations included are not substantially the same (to be decided at our sole discretion). You may submit entries on behalf of another person with the permission of that person.
Email entries
4.2 If submitting an entry by email, as described in paragraph 3.3(a) above, please ensure that:
(a) you have included a name for your nominee;
(b) the reasoning behind your nomination is attached to your email as a Word document or as a PDF document. No other format will be accepted. The document should be no larger than five (5) megabytes in size and no longer than three (3) A4 pages, using a font no smaller than size 10. We encourage entrants to include photographs with their nomination, but this is not a requirement; and
Postal entries
4.3 If submitting an entry by post, as described in paragraph 3.3(b) above, please ensure that:
(a) you have included the name of your nomination;
(b) the nomination is included in your letter, in typed or handwritten format. The reasoning should be no longer than three (3) A4 pages. We encourage entrants to include photographs with their submission, but this is not a requirement; and
All entries
4.4 For all entries please include your name and a way for us to contact you in the event that you win. For entries submitted by email, we will inform you if you are the winner by return email to the address used to submit the entry. For entries submitted by post please include a return address or telephone number on which we can contact you. For more information please see paragraph 9 below on "Claiming your prize".
4.5 YOU MAY NOT SUBMIT or send us any nomination, or any other content that may be harmful, illegal, defamatory, sexually explicit or offensive, including (but not limited to) content that:
(a) is defamatory of any person;
(b) is obscene, offensive, hateful, or inflammatory;
(c) promotes or is sexually explicit material;
(d) promotes illegal acts or content or is itself illegal;
(e) promotes or portrays violence;
(f) promotes discrimination based on race, sex, religion, nationality, disability, sexual orientation or age;
(g) breaches any legal duty owed to a third party or a court, such as a contractual duty or a duty of confidence; or
(h) is likely to harass, upset, embarrass, alarm or annoy the recipient.
You must comply with these standards for submission in their intended spirit as well as to the letter.
4.6 We will disregard any portion of any entry (in our sole discretion) that contains swear words, wording that may offend a person, would affect our reputation or goodwill, or would impact on our commercial interests (for example, if an entry were to too closely copy a competitor's product).
4.7 We will process any personal information you do send us in line with paragraph 12 below (although this does not affect our right to disqualify the entry and delete the photographs under paragraph 4.8 below).
4.8 The Promoter, acting in its sole discretion, may disqualify any entry that does not comply with the requirements set out in this paragraph 4.
4.9 For help with entries, please contact us by email at info@wiltshirefarmfoods.com.

5 SELECTING A WINNER
5.1 The competition entries will be judged by a panel of 3 judges. The decision of the panel of judges (acting reasonably) will be final.
5.2 The judges will assess each submission and select their favourite as a single winner. When selecting a winner the judges will consider a variety of factors including (but not limited to) the:
(a) reasoning behind the nomination;
(b) any additional photographs or information that may be relevant;.
5.3 The Promoter will send the full names of the judges to anyone who emails info@wiltshirefarmfoods.com after the Opening Date and up to one month after the Closing Date requesting details of the judges.

6 ELIGIBILITY
6.1 The competition is only open to all residents in the UK and Republic of Ireland aged 18 years or over, except:
(a) employees of the Promoter or its holding or subsidiary companies;
(b) the competition judge(s) or anyone else connected in any way with the competition or helping to set up the competition;
(c) employees of agents or suppliers of the Promoter or its holding or subsidiary companies, who are professionally connected with the competition or its administration; or
(d) members of the immediate families or households of (a), (b) and (c) above.
6.2 In entering the competition, you confirm that you are eligible to do so and eligible to claim any prize you may win. We may require you to provide proof that you are eligible to enter the competition.
6.3 We will not accept competition entries that are completed by, or copied from, third parties, completed in bulk, that are illegible, have been altered, reconstructed, forged or tampered with.
6.4 We reserve all rights to disqualify you if your conduct is contrary to the spirit or intention of the prize competition.

7 THE PRIZE
7.1 There will be only be one (1) winner. The winner will:
(a) Receive £100.00 worth of Wiltshire Farm Foods vouchers
(b) the individual nominated will receive a £500.00 Fortnum and Mason Afternoon Tea hamper
7.2 Prizes are subject to availability. There is no cash alternative for the prize.
7.3 We reserve the right to replace the prize, or parts of the prize, with an alternative prize of equal or higher value if circumstances beyond our control makes it necessary to do so.
7.4 The prize is not negotiable or transferable.
8 WINNERS
8.1 The decision of our nominated judges is final and no correspondence or discussion will be entered into.
8.2 We will contact the winner personally as soon as practicable on or around the Announcement Date, using the telephone number, email address or postal address provided with the competition entry.
8.3 If you object to any or all of your surname, county and winning entry being published or made available, please contact the Promoter here info@wiltshirefarmfoods.com or let us know when you submit your entry. In such circumstances, the Promoter must still provide the information and winning entry to the Advertising Standards Authority on request.
9 CLAIMING THE PRIZE
9.1 If you are the winner of the prize:
(a) we will contact you in arranging delivery of the hamper to the person nominated as well as the delivery of the £100 to the person who submitted the winning entry.
(b) we will contact you in order to obtain a postal address for the portion of the prize described in paragraph 7.1(b) above. We will send this after we have received further details such as the postal address of the winning nominee.
9.2 The prize may not be claimed by a third party on your behalf.
9.3 We will make all reasonable efforts to contact the winner. If the winner cannot be contacted (or does not respond within 14 days of being contacted), or is not available, or does not provide a valid postal address, we reserve the right to offer the prize to the next eligible entrant selected from the correct entries that were received before the Closing Date.
9.4 The Promoter does not accept any responsibility if you are not able to take up the prize.
10 LIMITATION OF LIABILITY
Insofar as is permitted by law, the Promoter, its agents or distributors will not in any circumstances be responsible or liable to compensate the winner or accept any liability for any loss, damage, personal injury or death occurring as a result of taking up the prize except where it is caused by the negligence of the Promoter, its agents or distributors or that of their employees. Your statutory rights are not affected.
11 OWNERSHIP OF COMPETITION ENTRIES AND INTELLECTUAL PROPERTY RIGHTS
11.1 All competition entries and any accompanying material submitted to the Promoter will become the property of the Promoter on receipt and will not be returned.
11.2 By submitting your competition entry and any accompanying material, you agree to:
(a) assign to the Promoter all your intellectual property rights with full title guarantee; and
(b) waive all moral rights,
in and to your competition entry and any accompanying material and otherwise arising in connection with your entry to which you may now or at any time in the future be entitled under the Copyright, Designs and Patents Act 1988 as amended from time to time and under all similar legislation from time to time in force anywhere in the world.
11.3 You agree that the Promoter may, but is not required to, make your entry available on its website and any other media, whether now known or invented in the future, and in connection with any publicity of the competition. You agree to grant the Promoter a non-exclusive, worldwide, irrevocable licence, for the full period of any intellectual property rights in the competition entry and any accompanying materials, to use, display, publish, transmit, copy, edit, alter, store, re-format and sub-licence the competition entry and any accompanying materials for such purposes.

12 DATA PROTECTION AND PUBLICITY
12.1 You are providing your information to the Promoter and not to any other party. Any personal information provided in connection with this competition will be used in accordance with our Privacy Policy found at www.wiltshirefarmfoods.com/privacypolicy. Should we wish to make use of the winners' details for any publicity material, we shall seek consent to do so at the time. See also paragraph 8.3 and paragraph 8.4 with regard to the announcement of winners.

13 GENERAL
13.1 If there is any reason to believe that there has been a breach of these terms and conditions, the Promoter may, at its sole discretion, reserve the right to exclude you from participating in the competition.
13.2 The Promoter reserves the right to hold void, suspend, cancel, or amend the prize competition where it becomes necessary to do so.
13.3 These terms and conditions shall be governed by English law, and the parties submit to the non-exclusive jurisdiction of the courts of England and Wales.