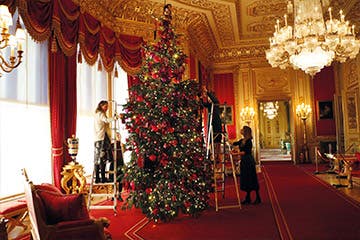 A RIGHT ROYAL CHRISTMAS
A RIGHT ROYAL CHRISTMAS
Added 730 days ago. 8 December 2021
We've taken a look at how Britain's most famous family spends the most wonderful time of the year.
As with most families, the Royal Family's Christmas is filled with many traditions, some old and some new! Let's take a look at how they spend their festive season.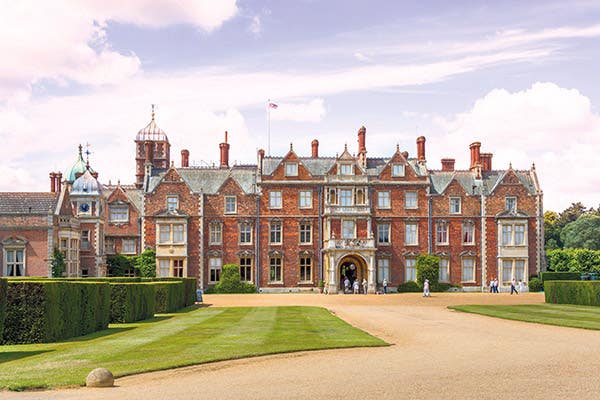 Heading to Sandringham
While the royals used to spend Christmases in Windsor when her Majesty's children were small, ever since 1988 it has been the tradition to gather at Sandringham Estate. The Queen and her immediate staff travel to King's Lynn, Norfolk by train, hiring out an entire carriage. She will then remain at Sandringham until 6th February, the anniversary of her father's death.
Christmas Cards
Queen Victoria first popularised the Christmas card in 1843; a tradition that Queen Elizabeth fully embraces, sending out a whopping 750 cards featuring a family photograph. Each one is personally signed 'Elizabeth' (for friends), 'Elizabeth R' (for statespeople) or her nickname 'Lilibet' for her cousins. She has so many to do, she often starts writing them as early as summer!
Christmas Trees
The Royal Family reportedly have two Christmas trees – a towering 20 foot real spruce tree, which sits in St. George's Hall (the largest room in the castle), decorated with 3,000 lights and hundreds of iridescent ornaments; and in the dining room a large silver artificial tree, which is about 30 years old. Decorations are traditional and feature many heirlooms, notably Queen Victoria's glass angels, which always take pride of place. The younger members of the family help finish decorating the trees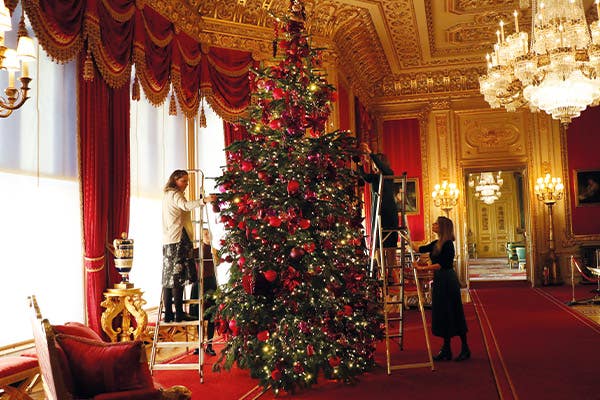 Christmas Eve
As per tradition in Germany, the Royal Family exchange gifts on the 24th; this begins once they have enjoyed afternoon tea. Every member of staff is also given a gift. In the evening there is a formal dinner and cocktail reception for select royals, kicked off by a Christmas Eve toast from the Queen. She toasts with a Martini while other royals will raise a glass of Champagne.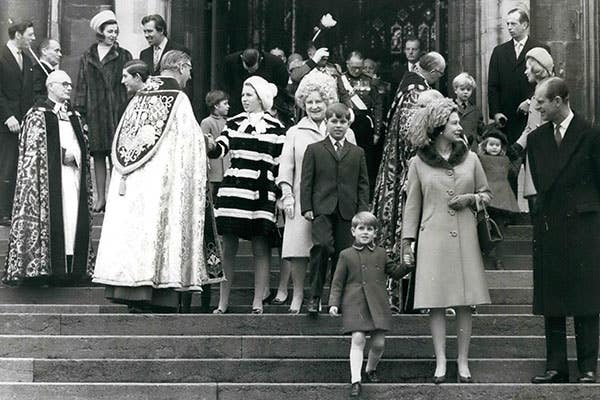 Christmas Day
The Royal Family always attend church on Christmas morning. Later there is a traditional Christmas dinner of turkey and all the trimmings. The children dine separately in the nursery, and for the 24 adults it's a formal affair: black tie for the gents and gowns and tiaras for the ladies. The Queen will indulge in her favourite festive tipple: a gin and Dubonnet.
Fun Traditions
The Queen distributes approximately 1,500 Christmas puddings to her staff in the pre-Christmas period.

The Queen reportedly enjoys reading out Christmas cracker jokes to everyone at the table!

Then after lunch the family enjoys a game of charades.

The whole family gathers to watch the Queen's Christmas address at 3pm on Christmas Day.

The corgis get a special Christmas meal too made from the freshest local produce.