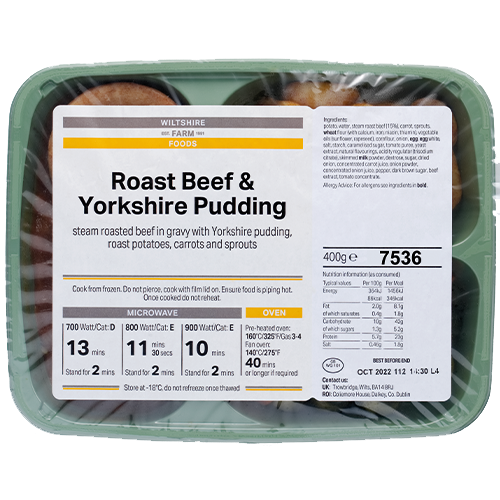 FIND OUT HOW TO READ A FOOD LABEL
FIND OUT HOW TO READ A FOOD LABEL
Added 103 days ago. 18 August 2023
Food labels can be confusing. In this blog we explain what all the information is and why it's important.
Food labels contain a lot of information which can be overwhelming. Having traffic light food labeling can make it easier to see at a glance how healthy something is. But what do all the different colours really mean? How can you make it easier to see whether you're making the best choice for you?
What information has to be on a food label?
As a legal requirement, the following information should be featured on all packaged food:
Ingredients - this is a list of everything that is included in the product from the main food items to any additional additives used for preservation to herbs and spices used for flavour.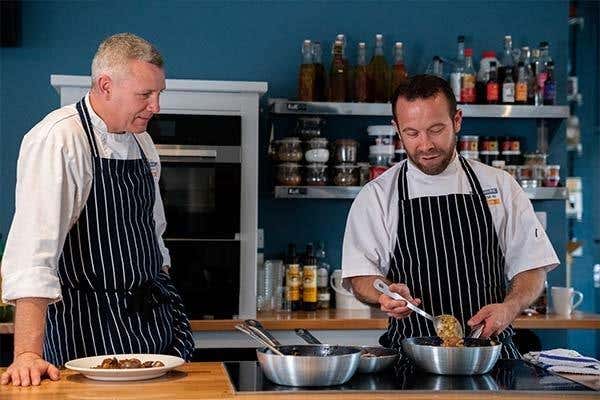 The percentage of ingredients used in a

product - you can see the proportion of the product made up of a particular ingredient. This is good to know as you wouldn't want to end up with a cottage pie that is 90% potato.

Country of

origin - the country of origin is especially important when the origin is a special product feature.

Allergen information

- any ingredients with the potential to cause an allergic reaction need to be called out such as gluten, lactose or nuts. If you're worried about any of these allergens then shop our 'Free From' menu created to help you avoid common allergens.

Net quantity

- this can be in either grams or millilitres and refers to the quantity of the product without the packaging.

Name and address of the manufacturer

- it's good to know where your food is being made, for example, all our dishes are made here in our kitchens in Wiltshire.

Preparation instructions

- how to cook meals is important as some dishes may be enjoyed best when cooked in the oven rather than in the microwave. Find out how to cook a ready meal in our handy guide.

Storage information and date labelling

- clear before/use by dates are required along with information on how to store the product to preserve it as best as possible.
Why is food labelling important?
Food labelling is important to allow you to make an informed choice about what you're eating. some prepacked foods can contain unknown ingredients that may not be healthy such as E numbers or ingredients that can trigger allergic reactions.
What does the nutritional information mean?
Each of our labels lets you know what each meal contains and how that corresponds with your daily recommended allowance.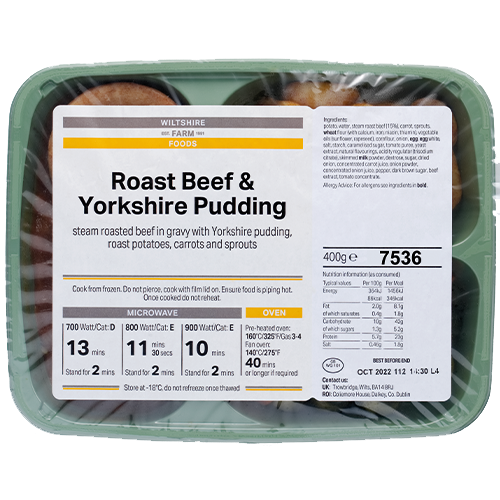 Energy - this shows how much energy in KJ and the calories the meal provides. Also, the percentage of the daily recommended allowance that it equates to. Generally, as we age we need to consume fewer calories, the number of calories we need also differs between men and women. You can find out more about daily calorie intake on the NHS website.
Fat - this shows the contents of all types of fats within a dish, although fat can have a negative image there are healthy fats that you should have as part of a healthy diet. Foods such as fish are a good source of healthy fats.
Check out our dietitian series to find out more about different kinds of fats and what you should include in your diet.
Saturates - saturated fat in larger quantities can increase the risk of health conditions such as high cholesterol and heart attacks so it's important to monitor the amount that you are consuming. The recommended amount of saturated fat to stick to is less than 20g for women and 30g for men.
Sugars - The NHS recommends that an adult should have no more than 30g of sugar a day which equates to around 7 cubes. Sugar isn't just in chocolate and desserts. It's even in foods that aren't considered as sweet, hidden sugar is important to be aware of so make sure to be aware of the sugar you are consuming.
One way you can cut back on your sugar intake is to be careful about what you drink, adding sugar to tea and coffee throughout the day can add up! Fizzy drinks can also be full of sugar so make sure that you are checking the label.
For those with a sweet tooth, there are reduced sugar options to tempt the taste buds such as our reduced sugar dessert menu. In our dietitian series, we also discuss how you can reduce the sugar intake you have within your diet.
Salt - the recommended daily salt intake is probably lower than you think. Did you know it's only 6g or one teaspoon. Too much salt can lead to high blood pressure which increases the risk of other health conditions.
If you're looking for lower salt options, we have a filter for 'Low Salt' when searching for meals.
When looking at some food labels it can be misleading on how healthy they are or how many calories they include as nutritional information is often given as per 100g or ml. This means that you need to work out how many calories are in each portion.
All of our meals show you the nutritional information for the whole meal so that it is clear what you are eating.
Our labels also provide information on dietary requirements such as low sugar or gluten-free, for more information see our guide to diet codes and icons.