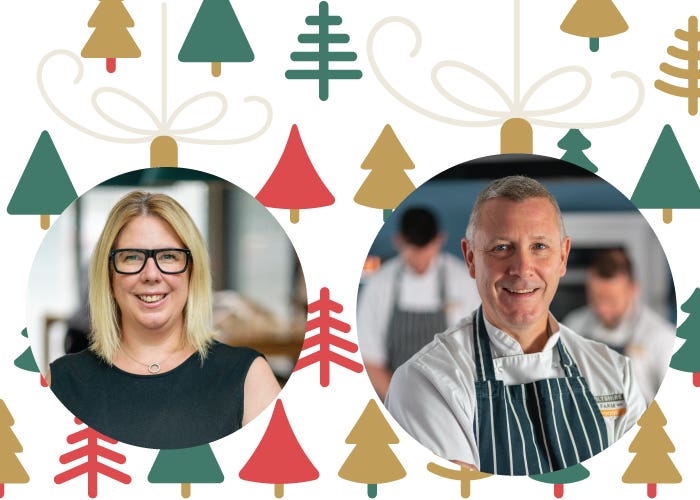 THE CHRISTMAS TEAM TALK
The Christmas Team Talk
Added 12 days ago. 16 November 2023
We caught up with some members of the Wiltshire Farm Foods team to find out about their Christmas traditions as well as what is on their Christmas menu.
Head Chef: Phil Rimmer
Who's hosting?
"It will be me and my partner. My Dad will be down with my sister and her husband and my two boys will be there also who are aged 20 and 17."
Will you be cooking?
"Of course! I wouldn't have it any other way."
Talk us through your day?
"We'll start the day with a bacon butty, and then we'll definitely have a glass of fizz. We'll do presents in the morning, then go for a walk - even if it is grey and drizzly! We don't eat Christmas dinner until 4-5 o'clock."
What's on the menu?
"My Dad is quite a traditionalist so it will be turkey. We don't go too mad with sides. Braised cabbage, parsnips, sprouts, tender stem broccoli, roasties, Yorkshire pudding, crushed swede with lots of butter and white pepper, cauliflower cheese, pigs in blankets, stuffing - and then just really good gravy. Ok, maybe that is quite a lot!"
What about the washing up?
"We generally take it in turns. I clean as I go, but everybody mucks in.
What happens after dinner?
"Because we start a bit later, we sit at the table all night and listen to music, talk rubbish and play games until the early hours of Boxing Day! Last year, we won a snap game out of a cracker and it was the best game of the evening - seriously competitive games of snap! "
Favourite Christmas film?
"It's got to be Scrooge the original one with Alistair Sim, but of the more modern ones, I'd probably say Polar Express or The Muppets Christmas Carol."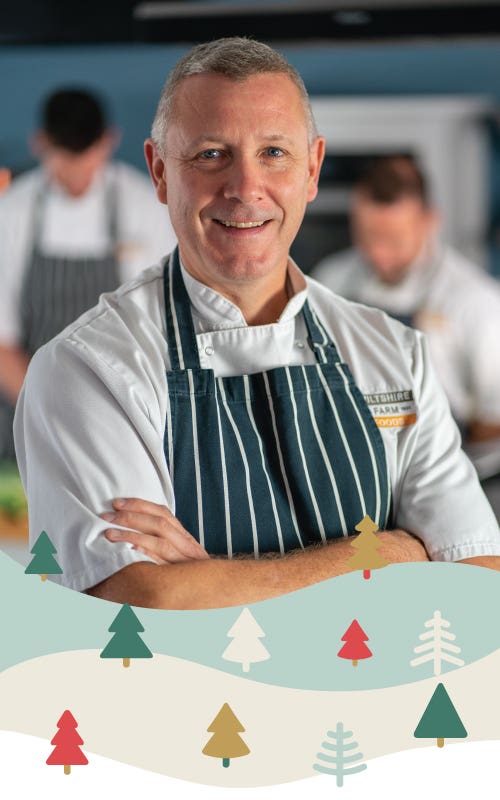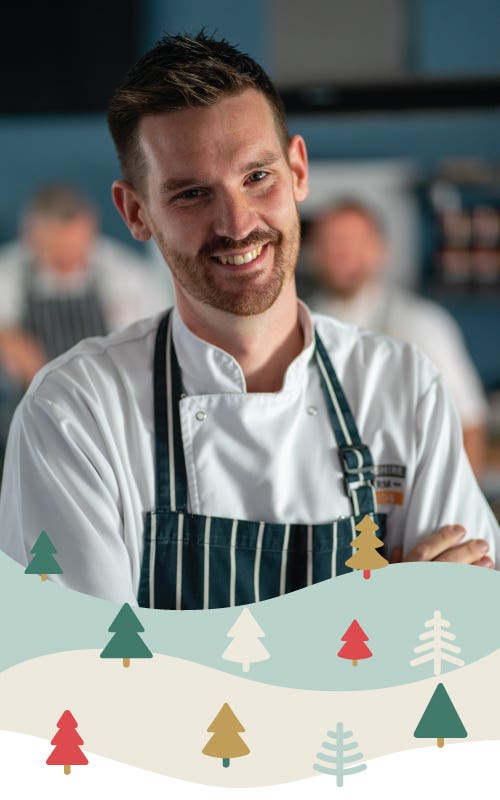 Pastry Chef: Matt Peters
Who's hosting?
"It's always us! We have the biggest house so it is just the easiest. It will be my wife's mum, my brother-in-law and his missus, with their two kids."
Will you be cooking?
"Yes, I will be cooking the turkey on the barbeque! It frees up the oven. In the run-up to Christmas Day, I will be in full-on prep mode like a military kitchen."
Talk us through your day?
"I'd love a lie-in but I'm sure my son who has just turned four will come in at the crack of dawn! Last year was the first year he knew what was going on at Christmas and it's just magical to watch. Now I'm not working on Christmas, I try to recreate the Christmases I've had as a child, to provide the same family togetherness. Dinner will be about 1 o'clock, but the beer and champagne will already be flowing. "
What's on the menu?
"We have a Yorkshire pudding with our Christmas dinner because I think that Yorkshire puddings should be on everything. As many roast potatoes as I can fit on my plate. I've been on a bit of a health kick so I will use the opportunity to go a bit mad! Cauliflower cheese, carrots, greens, and braised red cabbage is a big favourite and lashings of rich gravy!"
What about the washing up?
"It will probably end up being me. I am a bit OCD, so I like a tidy-up so we can relax in the evening."
What happens after dinner?
"My son will be running around and playing with all of his new toys. There are always boxes of chocolates floating around and we'll be trying to my son and the dog away from them!"
Favourite Christmas film?
"My favourite without a shadow of a doubt is The Santa Claus 1. 2. and 3. those Tim Allen films. My wife thinks I am mad, but that set of films always gets me into the Christmas mood. Mind you, my son is of the age now where he can sit through a film so he may dictate what we watch now."
Development Chef: Jethro Lawrence
Who's hosting?
"It will be me - I take my wife and two kids aged 7 and 5 down to Cornwall, which I have done for the past two years. Because I've historically been working in restaurants on the 25th, we now take the chance to do our own thing."
Will you be cooking?
"I generally do the cooking on Christmas Day- even though my wife is also a chef!"
Talk us through your day?
"We do scrambled eggs and salmon for breakfast, maybe a little bit of Buck's Fizz then we do the presents and then a walk - this year, we'll be in Padstow, which will be really nice and by the sea - we love the seaside. Then at 3pm, it will be time for Christmas dinner."
What's on the menu?
"We'll have a turkey on Boxing Day, so we'll do a venison rack or lamb rack, and maybe a cooked ham. It's all about the sides though, isn't it? Pigs in blankets, cauliflower cheese, Brussels sprouts with bacon and chestnuts, braised red cabbage and good roasties."
What about the washing up?
"That is usually me as well!"
What happens after dinner?
"We do a lot of Lego, because my oldest son usually gets a set for Christmas, so I'll usually sit down with him and build, and my wife and my daughter usually do some puzzles - or just play with whatever they've got for Christmas really. A cheese board will come out in the evening, maybe some cured meats, kids' snacks and whatever else!"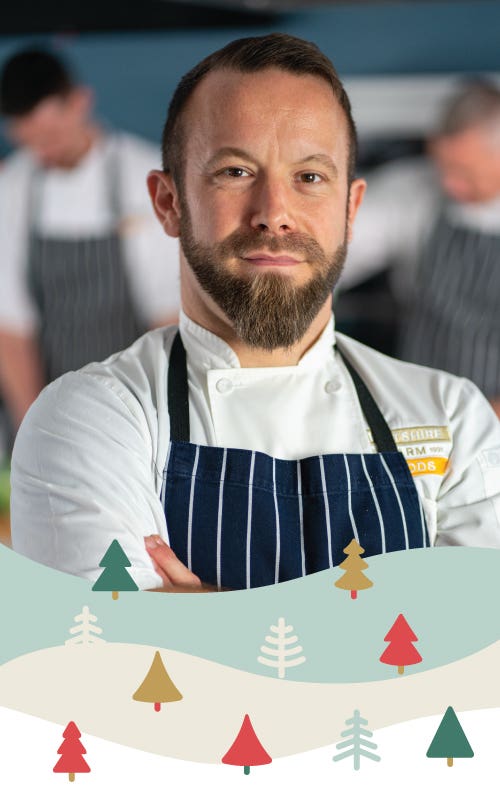 Favourite Christmas film?
"You can't beat The Snowman - it's something we have watched every year since the kids were born. Even if the weather is rainy and it doesn't feel very festive, if you draw the curtains and put The Snowman on then suddenly it's Christmas time, isn't it."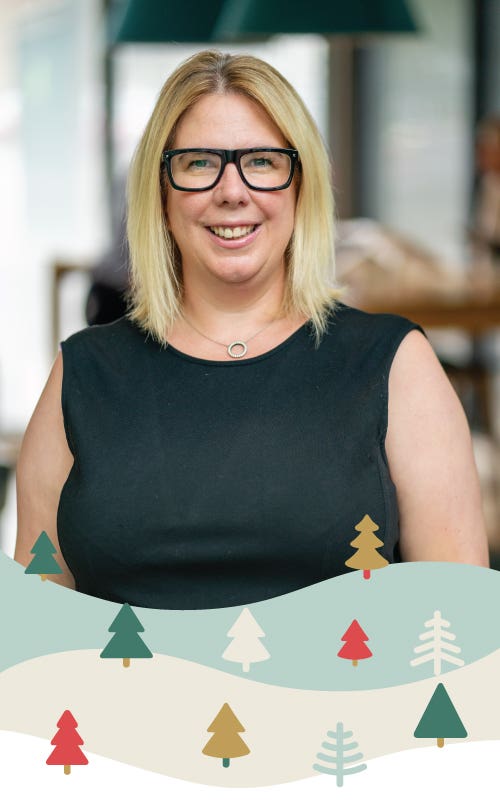 Customer Service Advisor: Emma Lloyd
Who's hosting?
"For the last seven years, we have gone down to Cornwall for Christmas. I go with my husband, my step-son and my mum and my dad. We hire a house or an apartment near the sea. It's special to all be together."
Will you be cooking?
"We all get involved it is predominately my mum. I did do Christmas at home one year - and my oven element broke halfway through cooking the turkey! Luckily my cousin lived a couple of doors away and she was out so I could run round and use hers! You always hear stories of ovens breaking down on Christmas, but you never expect it to happen to you! "
Talk us through your day
"Prosecco for breakfast! I always say I' not going to have any breakfast, but someone always buys me a box of my favourite chocolates and they've always gone by lunchtime, and that is my breakfast! Presents after breakfast.
What's on the menu?
"Turkey with all the trimmings, all the traditional Christmassy vegetables... a massive, filled plate! Pudding always comes a little later, because you are always too full up!"
What about the washing up?
"We all pitch in loading the dishwasher."
What happens after dinner?
"We walk the dog along the beach and get some fresh air. Sometimes, we''ll play traditional games like Monopoly, Scrabble, and Trivial Pursuit, or just sit down to Christmas movies with peanuts and Twiglets. That's if all the men aren't asleep in front of the telly in what I call a turkey coma! "