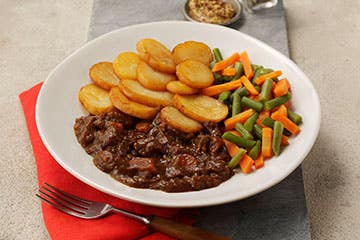 WINTER WARMERS
WINTER WARMERS
Added 740 days ago. 28 November 2021
Our range is bursting with a variety of tasty, comforting dishes to warm you up on these cold winter evenings.
Sometimes all you need on these cold and dark winter evenings is a delicious meal to really warm your spirits. At Wiltshire FarmFoods, our menu is bursting with a variety of tasty, comforting dishes for you to try, the perfect accompaniment for a cosy night in.
WARMING WINTER MEALS
Nothing yells comfort food like a hearty Cottage Pie or traditional Bangers & Mash. Our extensive menu has a variety of warming classic dishes, so why not give them a try this season?
COMFORTING PIES
Another delightful option for the colder months is sitting down in the evening to a delicious pie. Whether that's a succulent Chicken and Vegetable or a tender Steak and Kidney, we have a great range of pies to tickle your taste buds.
SOMETHING LIGHTER
If you're looking for a warming lunch time option or perhaps a lighter evening meal, then our range of tasty Soups are the perfect choice.
TEMPTING DESSERTS
There is no better way to finish off a winter meal than with an irresistible dessert. Whether a sweet Apple Pie & Custard is your favourite, or you love our tangy Lemon Sponge, be sure to treat yourself to some of our delicious Hot Desserts this winter.