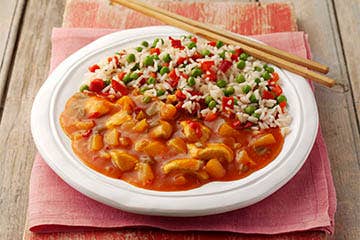 CHINESE NEW YEAR
CHINESE NEW YEAR
Added 609 days ago. 1 February 2022
With Chinese New Year happening on 1st February, why not celebrate with a selection of our delicious Chinese inspired dishes?
Happy Chinese New Year!
Chinese New Year is on 1st February and this year will mark 'The Year Of The Tiger'!

To mark this day of celebration, now is the perfect time to stock up your freezer with some of our tasty Chinese dishes.

Our range is bursting with authentic flavours, so whether you fancy a tangy Sweet & Sour Chicken or a delicious Chicken in Black Bean Sauce, we have got plenty for you to enjoy!
The Chinese calendar is a lunar calendar, meaning their New Year date varies each year dependent on the moon. The first day of the Chinese New Year always begins on the new moon that appears between 20th January and 21st February.
This year's animal zodiac is the Tiger, which is the Chinese zodiac sign for most of those born in the following years: 1926, 1938, 1950, 1962, 1974, 1986, 1998 and 2010.
The srong personality traits of those with this sign are said to be determined, confident and trustworthy.