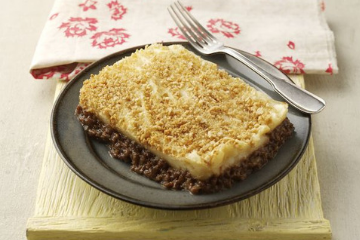 TRADITIONAL READY MEAL FAVOURITES
Whether it's a tasty sausage and mash finished with rich gravy, a hearty shepherd's pie, or an all-day-breakfast that hits the spot, we each have our all-time favourites.
That special dish from your childhood, a traditional Sunday lunch or a comforting combination you can't fault. Some things just don't change.

We love to celebrate those traditional classics on the menu, that's why we're taking a moment to appreciate your delicious ready meal favourites from our kitchen, the ones that our talented chefs know really make your day!

Here's our top ten traditional ready meal favourites for you to enjoy which are also some of the most popular ready meals in the UK.
We take pride in our traditional roast beef dinner so you can enjoy quality tender beef without the effort. Prepared by our expert chefs, our tender slices of beef are accompanied with a light and fluffy Yorkshire pudding, golden roast potatoes, tasty carrots and sprouts. This dish comes highly recommended by our chefs too, we think it must be something to do with our tasty gravy - a great Sunday option if you're looking for a roast dinner for one.
With just the right amount of mash, meat and gravy, our cottage pie ready meal will not disappoint avid fans of this classic dish. Our rich and tasty minced beef is topped with mashed potato and is served up with peas and carrots. What's not to like?
Alternatively, there's the British classic shepherd's pie dish, if moreish minced mutton and a layer of mash potato is more your pie of choice. A great warming dish for those winter months, combined deliciously with carrots and peas.
Our signature Lancashire hotpot is one of the traditional ready meals favourites on the menu. This tender lamb and vegetable casserole is topped with sauté potatoes and served with carrots, cauliflower and green beans, all cooked to perfection. It's a comforting meal, guaranteed to be appetising , just when you need it.
Our succulent slices of roast lamb in mint gravy is served with crispy roast potatoes, mashed carrot and swede (some say the perfect combination) and a side of tasty green beans. Perfect for Sunday lunch, or any day of the week!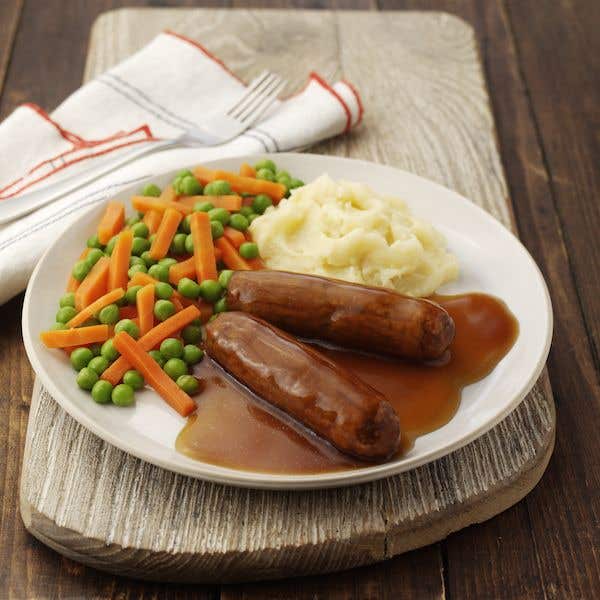 Who doesn't love bangers and mash? The simple combination of our pork sausages with deliciously rich gravy, together with smooth mashed potato and carrots and peas, works so well it's simply a British classic. There is also a Hearty Bangers & Mash available, if three sausages are more your measure.
Another Sunday classic, if you prefer chicken to beef you can't go wrong with our delicious steam roasted chicken breast with stuffing. It comes with fluffy roast potatoes, rich gravy and a side of carrots and sprouts.
Our convenient ready meals now include our battered haddock served with chunky chips. It's an oven cook only option, to guarantee a perfect batter and golden chips just the way they are meant to be – light and crispy with a lovely flaky fish inside. This classic comes highly recommended by our customers.
Pass the brown sauce. We can't get enough of the all-day-breakfast made easy. A classic British combination of back bacon, delicious pork sausage, fluffy omelette, baked beans and hash browns. The perfect start to the day, enjoy with a pot of tea we say.
We highly recommend our steak and kidney pie recipe, with succulent chunks of steak and kidney, topped with a shortcrust pastry. Served with mashed potatoes, carrots and peas, it's the hard work of our expert chefs which keeps this dish firmly at the top of our favourites list.
Something for dessert?
If there is room for pudding we have some traditional favourites too! From winter puddings to cold desserts, you'll be sure to find something that satisfies the taste buds.
Our Hot Desserts range include some traditional favourites, such as;
Sticky Toffee Pudding with a sweet toffee sauce and custard.
Our Chef's Favourites Bramley Apple Pie - a slice of shortcrust pastry filled with Bramley apple pieces, lightly dusted with sugar.
A simple classic, the traditional Rice Pudding never gets old.
Alternatively, if you are looking for something more cooling, perhaps you could try a selection from our Cold Dessert range.
Next time you're deciding what to have for dinner, remember to look out for our classic ready meal favourites and enjoy the comforting taste of Britain's classic cuisines.
Our full range of delicious frozen ready meals and desserts are available to purchase online or by phone. If you would prefer to place your order over the telephone, call us FREE on 0800 077 3100 to place your order.
Request a free brochure
Order a FREE copy of our latest brochure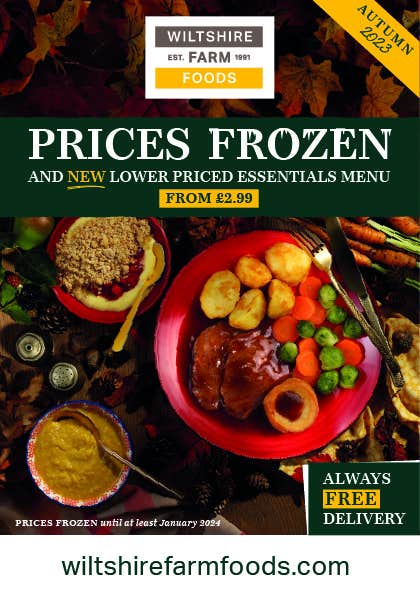 Shop by brochure code
If you prefer to shop from our brochure, you can use our quick shop form to order meals using the product codes shown in our brochure.