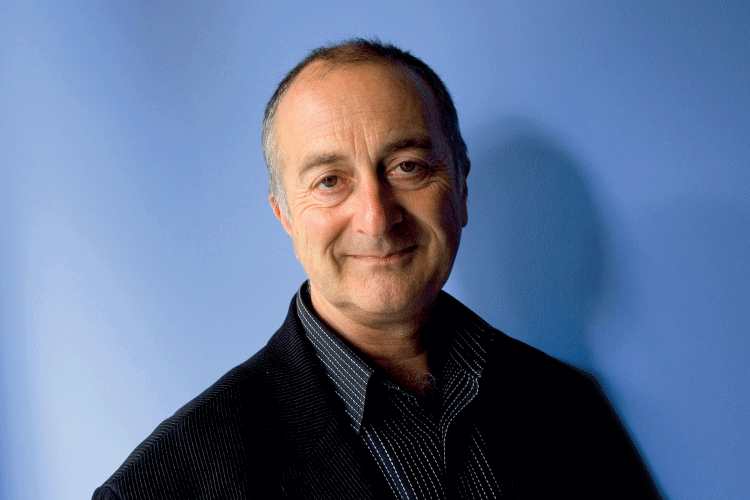 AN INTERVIEW WITH SIR TONY ROBINSON
AN INTERVIEW WITH SIR TONY ROBINSON
Added 112 days ago. 9 August 2023
As the host of Time Team… as Blackadder's hilarious sidekick, Baldrick… Tony Robinson is always enthralling - and no less so when we caught up with him about his career highlights and passion for history.
Although Tony left school after his O levels to pursue drama, history has always been a huge part of his life. Even if he didn't realise it…
When I was born in 1946, my mum and dad had just left the forces in which they had been active throughout the war; an experience that they described as the most transformative of their lives. They talked about it a lot - the crazy adventures they'd had, and I loved that. Their stories about East End life, the Blitz, and what my grandparents and great-grandparents had done. All these things were very much a part of my life - they kind of defined me. It never occurred to me until I went to secondary school that they were on about a subject called history. They were part of my world and defined me just as much as walking, breathing, laughing, snogging - all those things that we do in our lives. So this thing history has always been natural to me and very easy.
He finds it hard to pick a favourite era of history.
I am a storyteller; all periods of history are fascinating. The key is just to find those fascinating stories. 1743 is not more interesting than 1742, the trick is just finding what it is about that period that fascinates you enough getting t then recount back to an audience.
There is one that stands out for him though.
Since I was a little boy, I've always been absolutely fascinated about what we call the Dark Ages, the Anglo-Saxon period. How Britain got itself back on its feet again after the Romans left and after the invasions by the various Germanic peoples - and how much within just 130 years before the Norman invasion England was created. All of that era I find infinitely interesting.
He puts landing his careerdefiningrole as Baldrick inBlackadder down to pure luck.
I wasn't at Oxford or Cambridge with the other luminaries of Blackadder. I'd left school at 16 with four O levels. I just scraped through history - I got Grade 6. Grade 7 was a failure. I had always loved that kind of television I thought of it as Oxbridge comedy. From 'That Was The Week That Was' to 'Monty Python' and 'Fawlty Towers', but I knew I'd never be part of that because I had never been that witty highly educated group of people. But I's always felt that if I could be associated with them then there was a role that I could play.
He couldn't believe it when theopportunity came his way.
I arbitrarily got through the post a script for the pilot of Blackadder and it said "Would you play the part of Rowan's servant in the Pilot for his new situational comedy?" I got that on the Thursday, and we were due to start the following Monday.
I knew that I wasn't the first choice, in fact I was probably about 9th or 10th, and it was such a small role! But the first morning I was there, it felt like I was home. I was with the people that I wanted to be working with, doing the kind of comedy that I wanted to be doing.
When a strike at the BBC delayed the filiming of the pilot, after waiting ans waiting, Sir Tony signed a year-long National Theatre contract. This led him to then miss the filming of the pilot when it eventually happened. He thought he'd missed his chance..!
I thought it was over and that was it. If you miss the pilot you don't get cast in the main series - but it happened! And it transformed my life. And it didn't do so immediately, as the first series wasn't a hit; it was a cult hit among a small number of TV comedy fans, but it didn't do that well and no second series was forthcoming for a couple of years. After we'd done the second series when it was received with a little more enthusiasm. But it was the repeats of the second series when suddenly my world was transformed.
He found Baldrick a delight to play.
The writers always wrote good jokes, whether Baldrick's character was smarter or dumber. I was just so happy to be part of it and to try and realise their aspirations to the best of my ability. What was more important to the shape of the show as a whole was that Blackadder was to feel like he was smart in his own private environment i.e. his kitchen. And for him to believe that he was smart when he went into court. The problem was that he wasn't smart in court. He was only smart in the kitchen, as he was surrounded by dumb heads like Baldrick.
Blackadder and the character of Baldrick hold an eduring place in people's hearts.
Richard Curtis wrote a seven-minute monologue for me to perform as Baldrick on Comic Relief this year and I couldn't believe the reaction. It was astonishing! I was suddenly at the epicenter of so much love and attention. It was a wonderful thing to have happened and I was so proud of being able to rekindle people's interest in the show.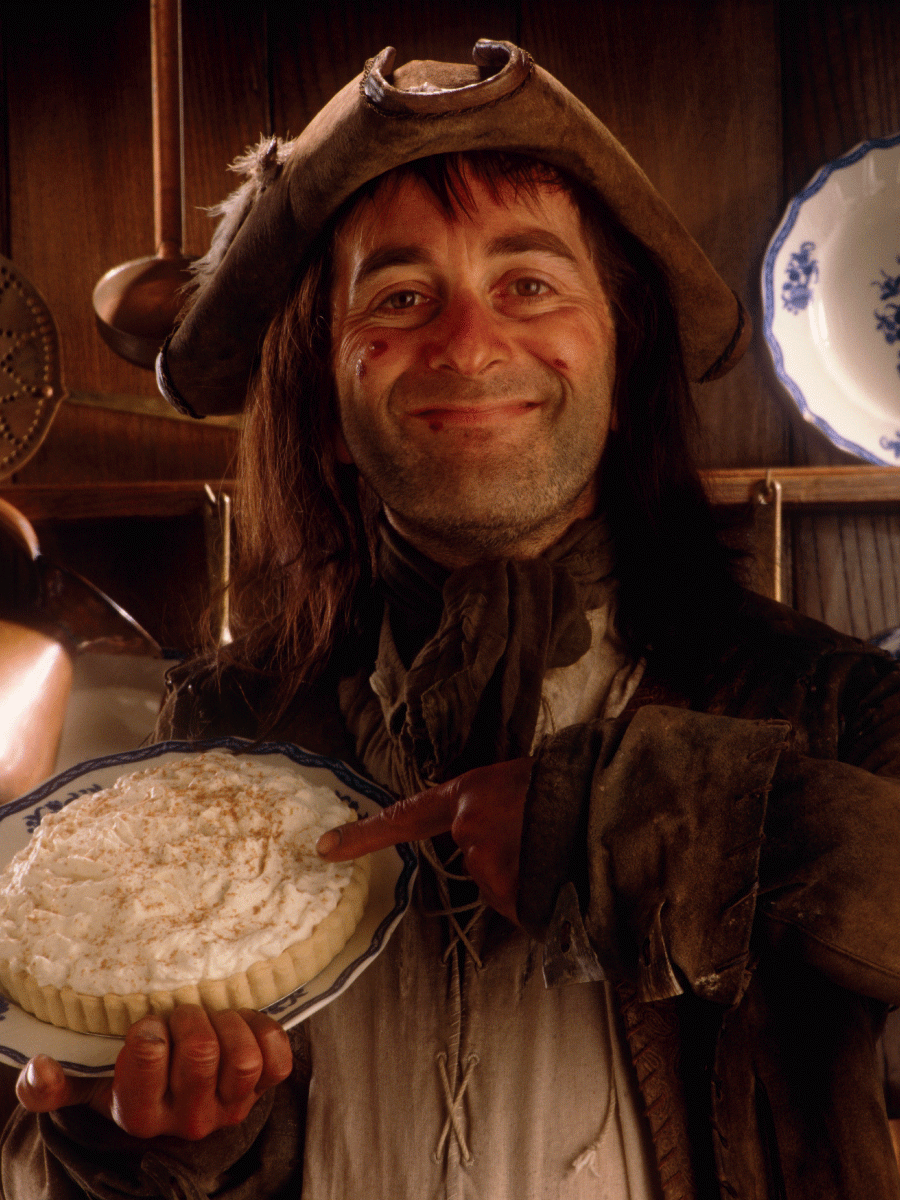 Blackadder and the character of Baldrick hold an eduring place in people's hearts.
Richard Curtis wrote a seven-minute monologue for me to perform as Baldrick on Comic Relief this year and I couldn't believe the reaction. It was astonishing! I was suddenly at the epicentre of so much love and attention. It was a wonderful thing to have happened and I was so proud of being able to rekindle people's interest in the show.
This June also saw the airing of the 'lost pilot' and an accompanying documentary about the making of it.
It was actually my idea that I should front the documentary. Firstly, because I had worked with the company making it before, but also because, as an actor in the show, there are an awful lot of questions that you would like to have asked but never did. It's like any freelancer going into a job. You don't really know what you have been asked to do. So, I was only too happy to interview John Lloyd, Howard Goodall (the composer), Ben Elton, Richard Curtis... Although I have spoken to them on numerous occasions, I would never have wearied them by saying 'can we sit down and talk about the origins of Blackadder?" But now I had my chance!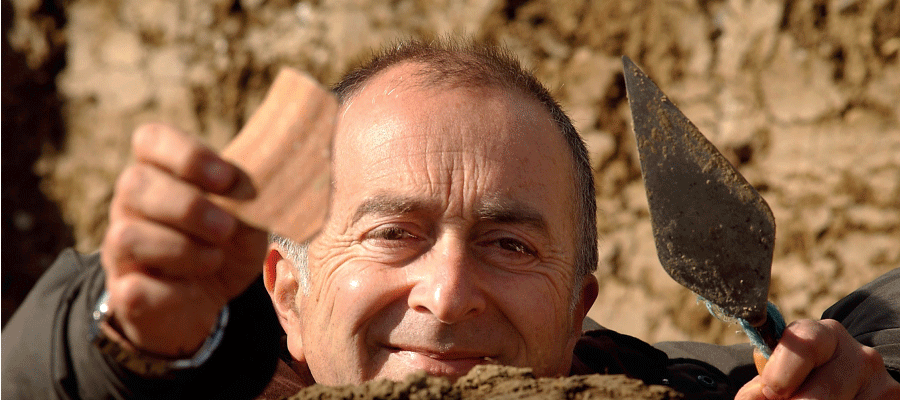 If Blackadder was like reading time at university, Time Team was like reading archaeology.
I effectively got two degrees and was paid for it... two degrees in which I was taught by the most skilful people in the land in those subjects. Presenting Time Team was great. I never had much of a formal education, so to be surrounded by very intelligent people in something I was inordinately interested in but didn't know very much about it was lovely for me. They were nice people as well and only too keen to share their knowledge with me.
No one expected Time Team to become the success that it was - it ran for 20 years!
I can remember having conversations with one of the heads of Channel 4 when Time Team was first going out. He said that there would never be more than four shows a year as all archaeology is pretty much the same and all the challenges are pretty much the same too. In fact, it turned out he was wrong with that assessment, but I didn't know that at the time and nor did he.
There are two particular Time Team digs that stand out for him.
The first was when we went to South Wales, and everything that we found had been deliberately planted very shortly before we arrived on site. The archaeologist smelt a rat and said, "I don't think that we should carry on with this." Our producers, who were television people and very smart said, "Look, you always told us that archaeology is a forensic discipline like CSI. How better to prove this than to examine what turns out to be phoney archaeology and reveal its phoniness via your skilled discipline?"
The second was when they let me be the first person to excavate a Roman mosaic floor down in Gloucestershire. One of the specialists said "I think there is a tessellated Roman floor just inches below the ground here", and he handed me a trowel and said, "Would you like to dig here?" and I said, "Don't be mad! I am not an archaeologist. I am someone who talks on the television for a living - I don't want to damage it." and he said, "No you wouldn't. The thing about floors is they are robust. I will be leaning over your shoulder, and anyway, it would make great television!" I revealed one tile... a few more scrapes and then there was another one. And then a third and a fourth hinting at a pattern. In the end, I revealed a good 5 square feet of it. It was amazing!
He's particularly proud of the projects that came from his own imagination.
The first series I ever made was called Tales from Fat Tulip's Garden and that was a fantasy series that just sort of came out of my mind. And I was very proud of that. One of my favourite shows was Maid Marian and Her Merry Men. In between filming, I was mostly curled up in a ball sleeping on the grass recharging my batteries after I'd flung myself into its creation for the last few hours!
More recently, I've done a series called Tony Robinson's Marvellous Machines. I pitched the idea, and then it became a reality! And who knows, it may not be a huge hit but often your triumphs aren't necessarily the things that are fated, they are just the little things that happen in life.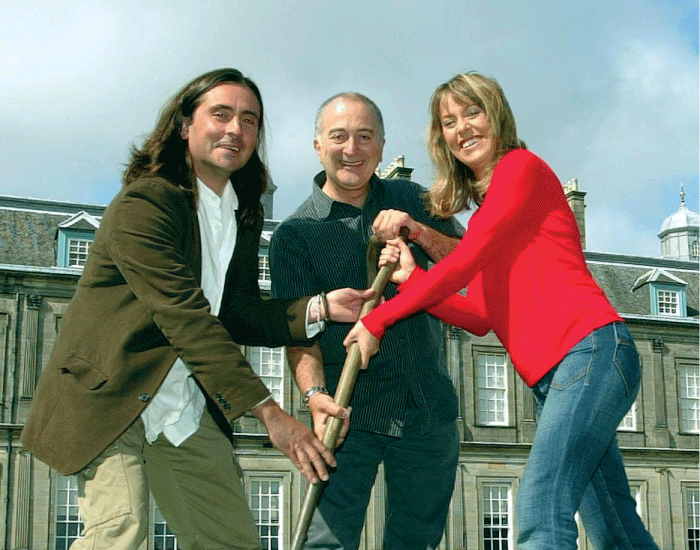 Tony is also an ambassador for Alzheimer's Society.
Both my parents lived and died with Alzheimer's, so apart from my family and my work, it was the predominant feature of my life for well over a decade. The more I became engaged with my parents' infirmity, the more I realised that not enough was known about it. Not enough investment was being made into it, and not enough care was being given to the carers who are the unknown soldiers of today's Britain. And I do think that campaigning on behalf of those carers is one of the best things that you can do. Because it is those careers - both professional ones and those who do it just out of love - that can provide a better life for people who have Alzheimer's.
Summer is his favourite season.
I was walking along with someone last night who said, "How much happier are you in the summer?" And I said, "I think about 25%". She said, "Yeah. That's the figure I have in mind!" So on that scientific note I know that people feel 25% happier during the summer. Everywhere in England is 25% nicer in the summer. The South Downs, the North Downs and the Cotswolds. As a Southern English person, I love them all, but even more so in the summer.
As well as being given a knighthood, he is delighted about two other recent achievements...
I have been on a first-class stamp in the last few weeks, and I have to say that having a knighthood, being on a first-class stamp and being asked to do Dessert Island Discs, once you have achieved those three Olympian heights, that's it really, you don't have anything else.
He is most proud of his children though.
I feel my biggest achievement though is being the father of two fabulous children - nothing else I have done in my life even comes close to that!