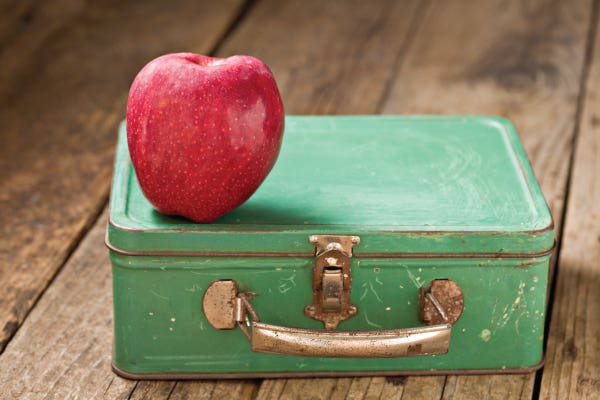 DO YOU REMEMBER YOUR OLD SCHOOL MEALS?
DO YOU REMEMBER YOUR OLD-SCHOOL MEALS?
Added 120 days ago. 1 August 2023
Do you remember the food you ate in your school days? Everyone had their favourite dishes, normally the pudding! We look back at some old-school favourites.
One of the things we remember from our school days is the food we ate at lunchtime. Long before the days of Jamie Oliver, old-school dinners in the UK could sometimes be described as an acquired taste! Children didn't have the same amount of choice as now and had to eat whatever the dish of the day was. With a main dish and a pudding served up; with the latter often being the most popular part of the meal!
Old school meals were also accompanied by a free bottle of milk for every child. In the 50's rationing was still in place so school cooks had to be inventive with ingredients and the dinner lady was there to make sure you finished everything on your plate!
Here are some old-school favourites that you can still enjoy today: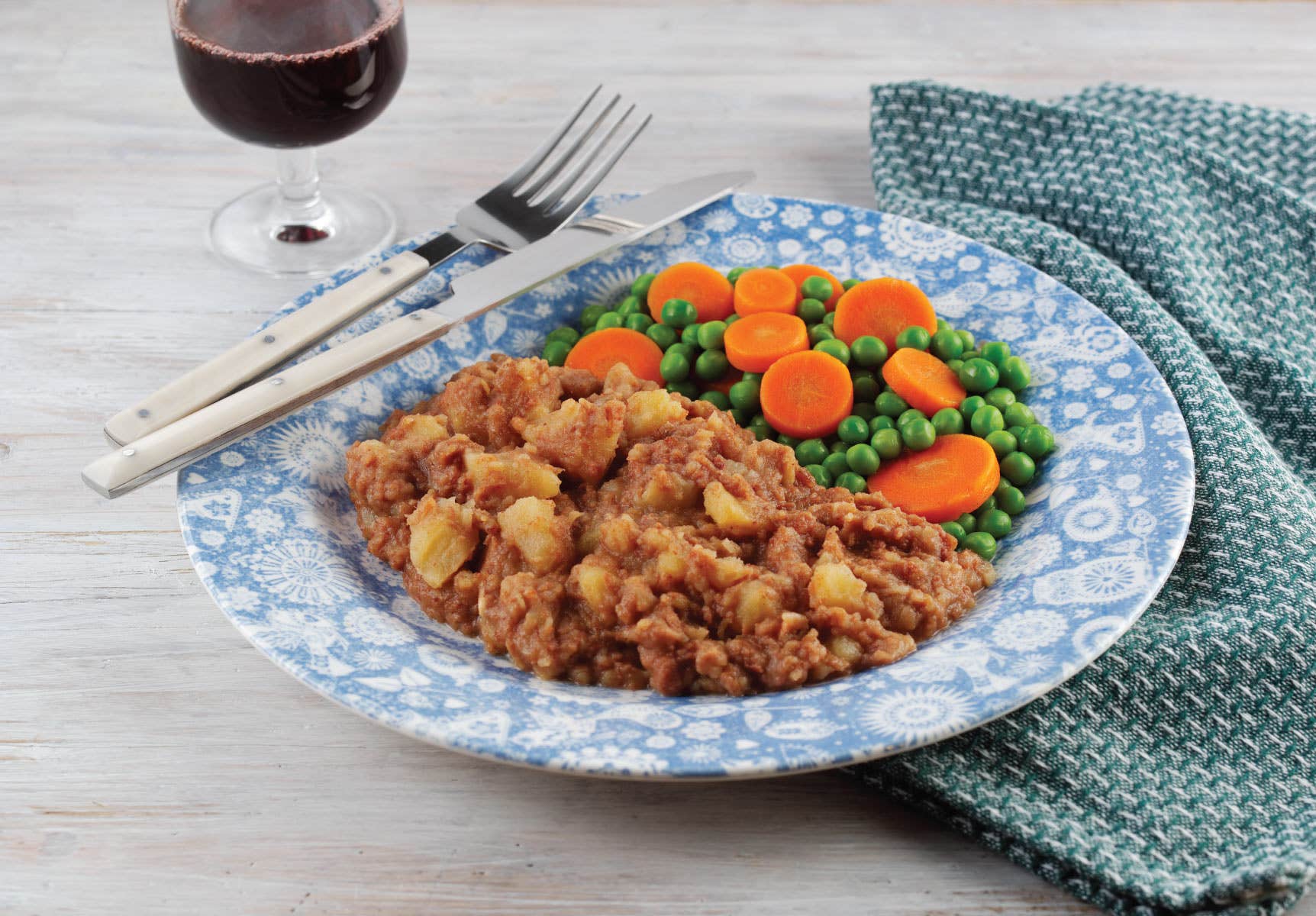 Corned beef was a popular ingredient in the post-war 1950s. It was a cheap, readily available product with high nutritional value. Did you know that the 'Corned Beef' relates to the large salt crystals used to preserve the beef.
School cooks would use Corned Beef with potatoes and onions to make a hash. The recipe originated in New England in the US as a way of using up leftovers. Our Corned Beef Hash dish is a favourite and is served with Peas and Carrots.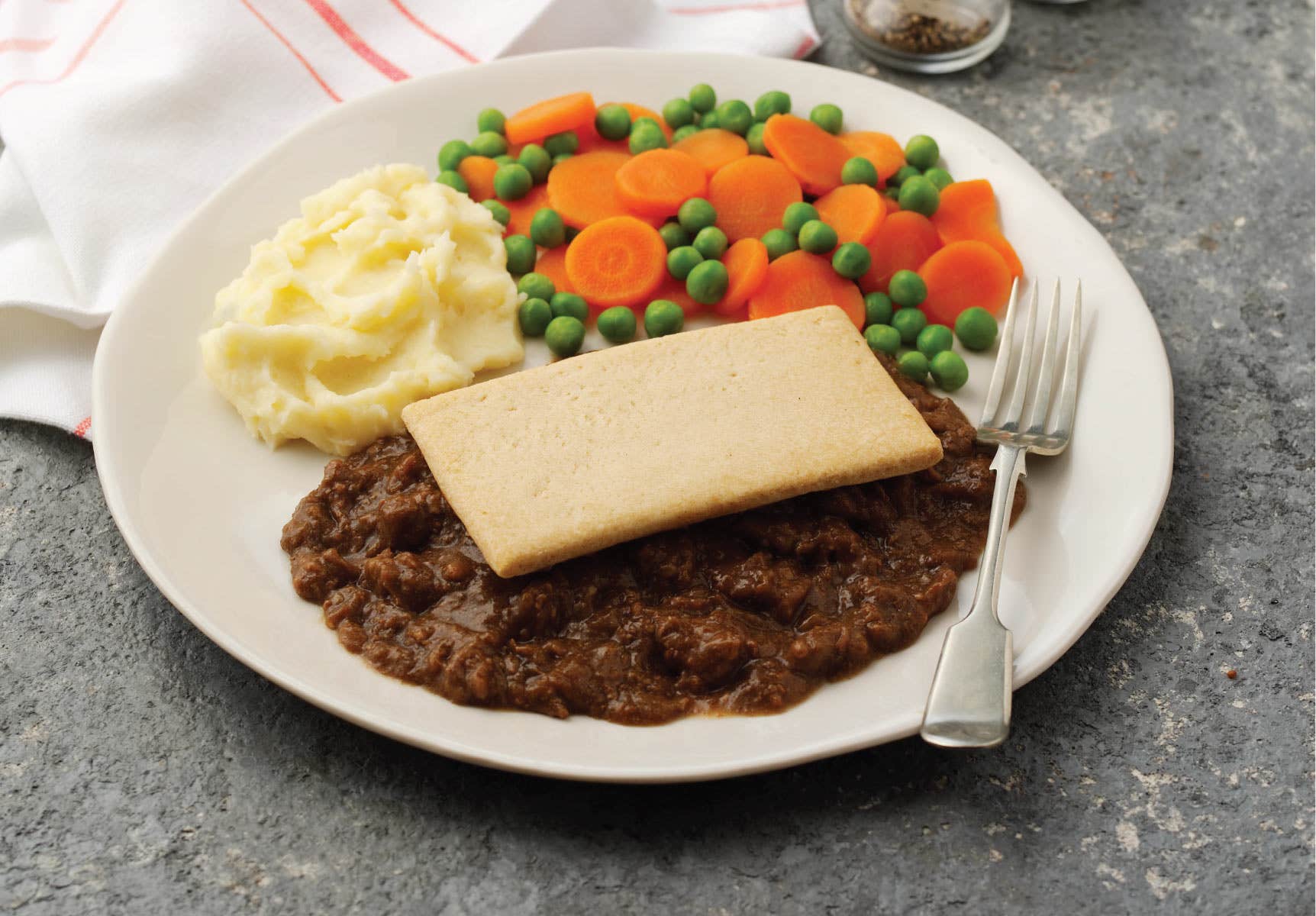 Mrs. Beeton published the first recipe for Steak and Kidney Pie in her famous household management book back in 1859. An option with plenty of protein would help school kids be full up for the rest of the day!
Our Steak and Kidney Pie is a popular choice made with succulent pieces of beef steak and pork kidney topped off with a shortcrust pastry. You might have bad memories of lumpy mash a school but you don't need to worry here! Our pie is served with smooth and creamy mashed potato along with carrots and peas.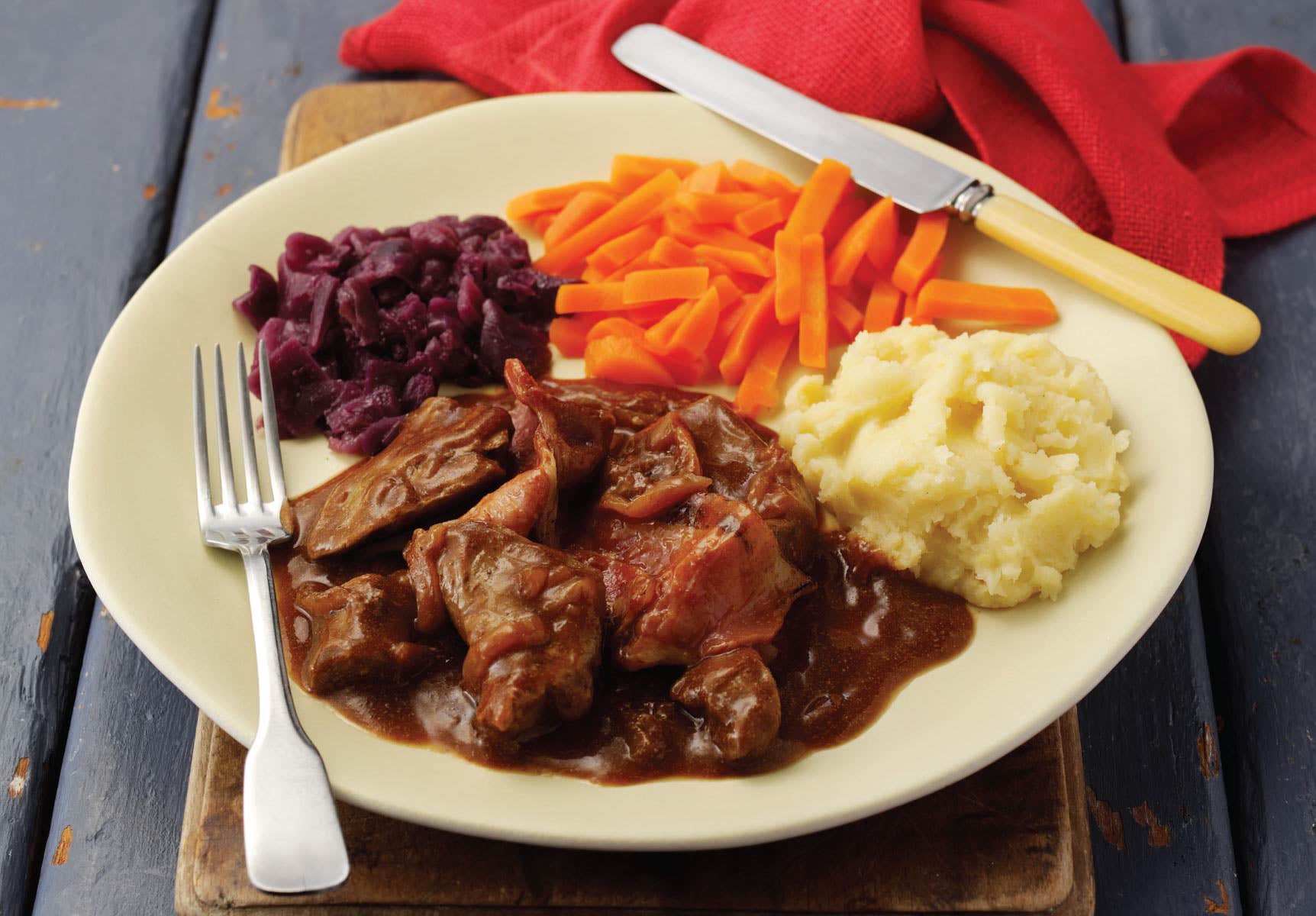 Liver isn't as popular as it once was but in the 1950s there was more focus on using up all the cuts of meat available. Liver is also packed with nutritious vitamins and minerals so can really help you to stay healthy. Our Liver and Onion dish is made of lamb's liver with bacon and smothered in a rich onion gravy. It also comes with creamy mashed potato and finished off with carrots and red cabbage with apple.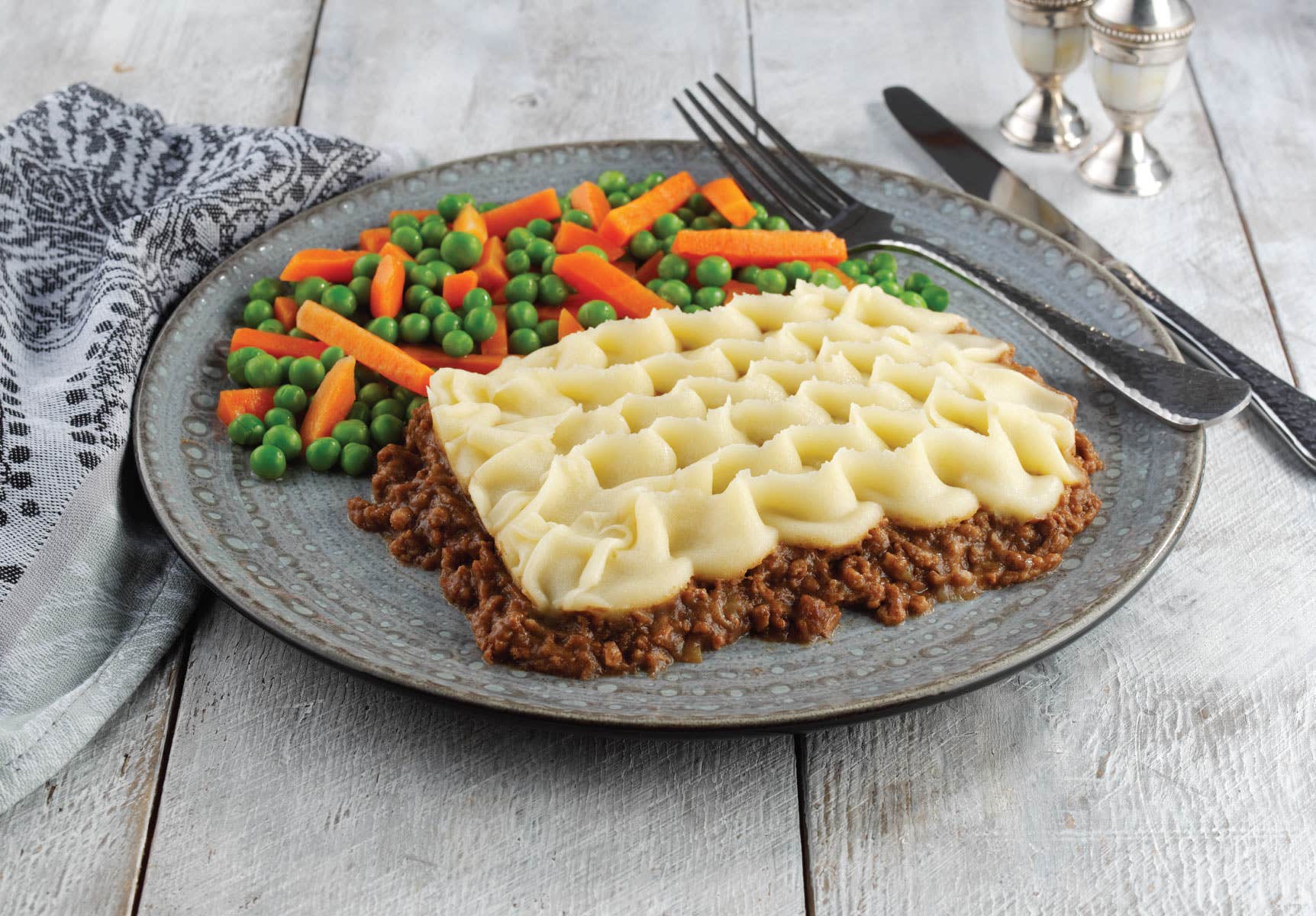 The ever-popular Cottage Pie continues to be a British staple. Traditionally made with minced beef and topped with mashed potato. Like many popular recipes at the time, it was originally created as a way of using up leftovers to avoid waste.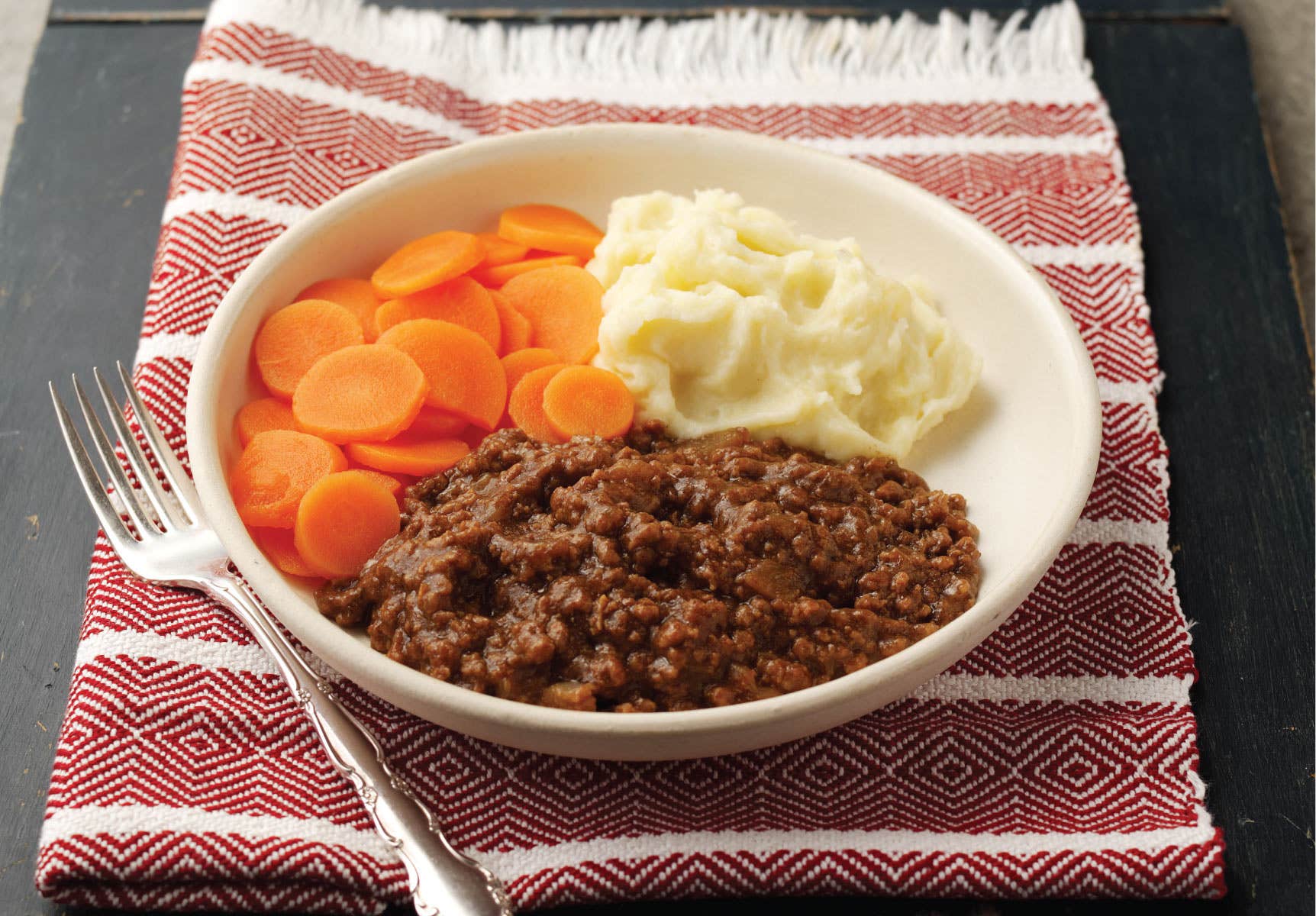 Minced beef was a very common ingredient that popped up in many different dishes. A simple take on it was to serve minced beef in a rich sauce along with mashed potato. In our dish we also add a side of carrots.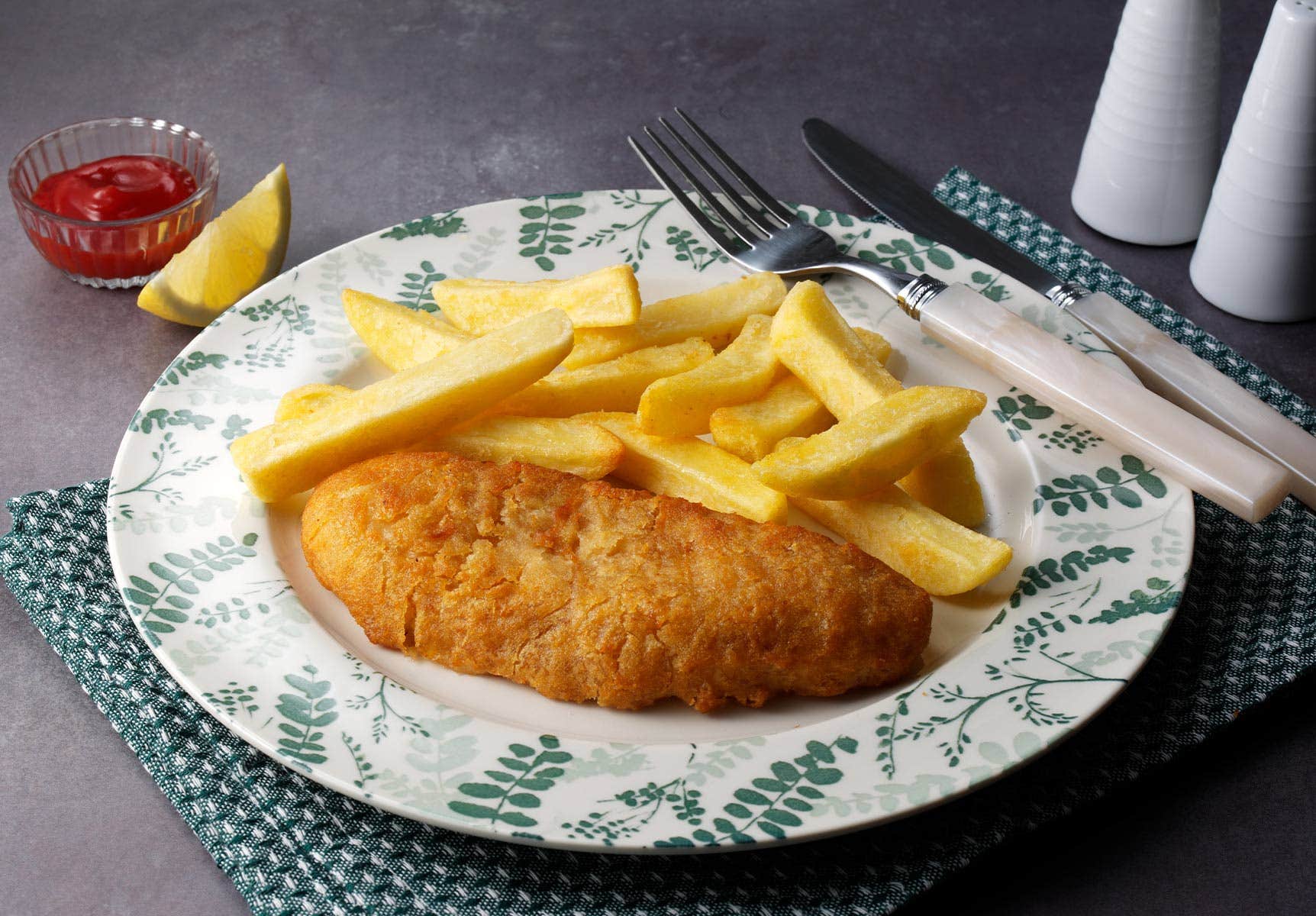 Friday's often meant fish with the traditional Fish and Chips being a popular choice with school children. You can find out more about the history of fish and chips in our blog.
Possibly the best part of the school dinner was the pudding, with lots of traditional favourites being served. This included sponge puddings like Jam Roly Poly or the so called 'Frogspawn Pudding' made of tapioca and milk. Milky puddings like this and Rice Pudding were very popular at the time. You can find some more of the most popular desserts of the 1950s in our dedicated blog.