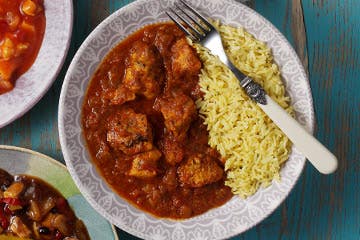 IT'S NATIONAL CURRY WEEK
IT'S NATIONAL CURRY WEEK
Added 801 days ago. 28 September 2021
It's National Curry Week from 4th October - 10th October, but when did the UK first get a taste for curry?
From Indian Shores to British Doors
Indian cuisine has been a favourite in Britain since the 19th Century, when British seafarers brought home exotic spices from their worldly travels. Here's the history behind some of your favourite Indian dishes…
Korma
The creamy Korma (or Qorma) travelled to Britain from the Indian subcontinent, where it dates back to the 16th Century. The traditional Korma is a dish of meat or vegetables cooked in yoghurt, coconut milk and almonds. The term 'Shahi' (Royal) often used to describe Kormas, indicates it was once a prestigious dish, and it is said to have been served at the inauguration of the Taj Mahal.
Tikka Masala
Adapted in the 1970s, the Tikka Masala is a prime example of Indian cuisine adapted to British tastes – taking the traditional chicken tikka dish, and adding a masala sauce to satisfy the British love of meat and gravy. Combining the creaminess of milder curries with a hint of tandoori spice, it's hard to believe this delicious dish actually originated in Glasgow…!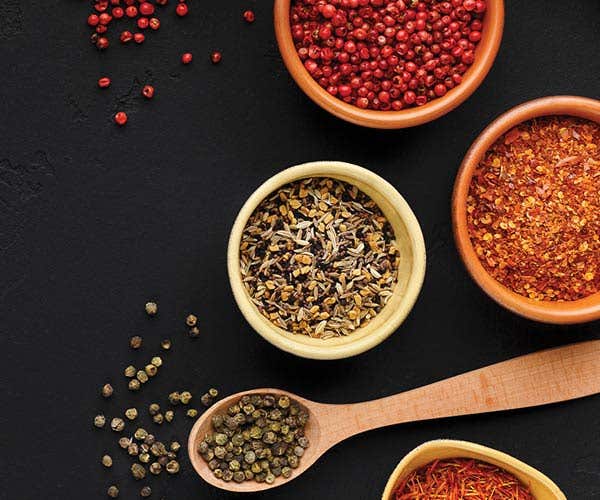 Did you know?
Former British Foreign Secretary once declared Chicken Tikka Masala one of the UK's national dishes.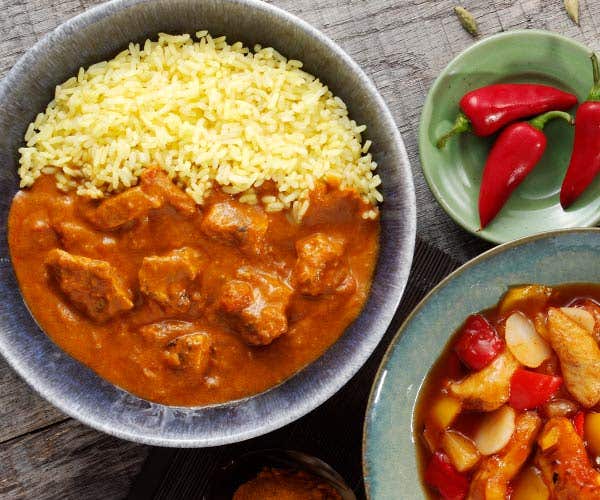 Rogan Josh
This aromatic, meat-based curry is of Persian origin. Traditionally cooked with lamb or goat, Rogan Josh
gets its rich colouring from dried flowers or the root of Alkanna tinctoria and Kashmiri chillis. British interpretations often add tomatoes to the sauce. Rogan Josh is a staple in the Kashmir Valley, a cool, mountainous region in Northern India, where ancient communities used to retreat during the unrelenting summers.
Jalfrezi
The no-nonsense Jalfrezi is a curry dish originating in the Bengal region in Eastern India. The Jalfrezi appears in cookbooks of British India as far back as the 1800s, as a way of using up leftovers in the time of the British Raj. Today, the Jalfrezi is made using meat, fish, paneer or vegetables, stir-fried in spices and served in a thick sauce of onions and tomatoes.
Did you know?
The first purely Indian restaurant in Britain, "The Hindoostane Coffee House" in George Street, London, opened in 1810
Feeling hungry? Why not try one of our delicious curries to warm you up and bring a smile to your face.
Request a free brochure
Order a FREE copy of our latest brochure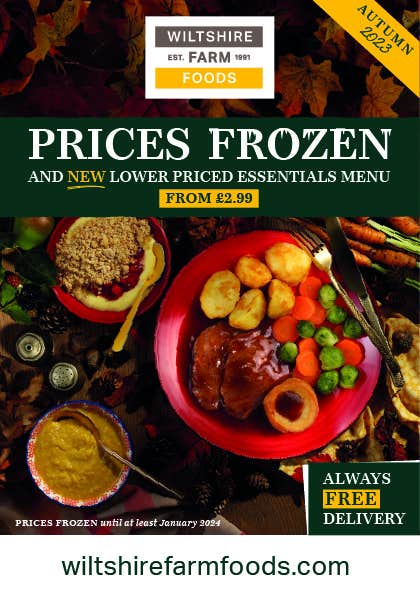 Shop by brochure code
If you prefer to shop from our brochure, you can use our quick shop form to order meals using the product codes shown in our brochure.